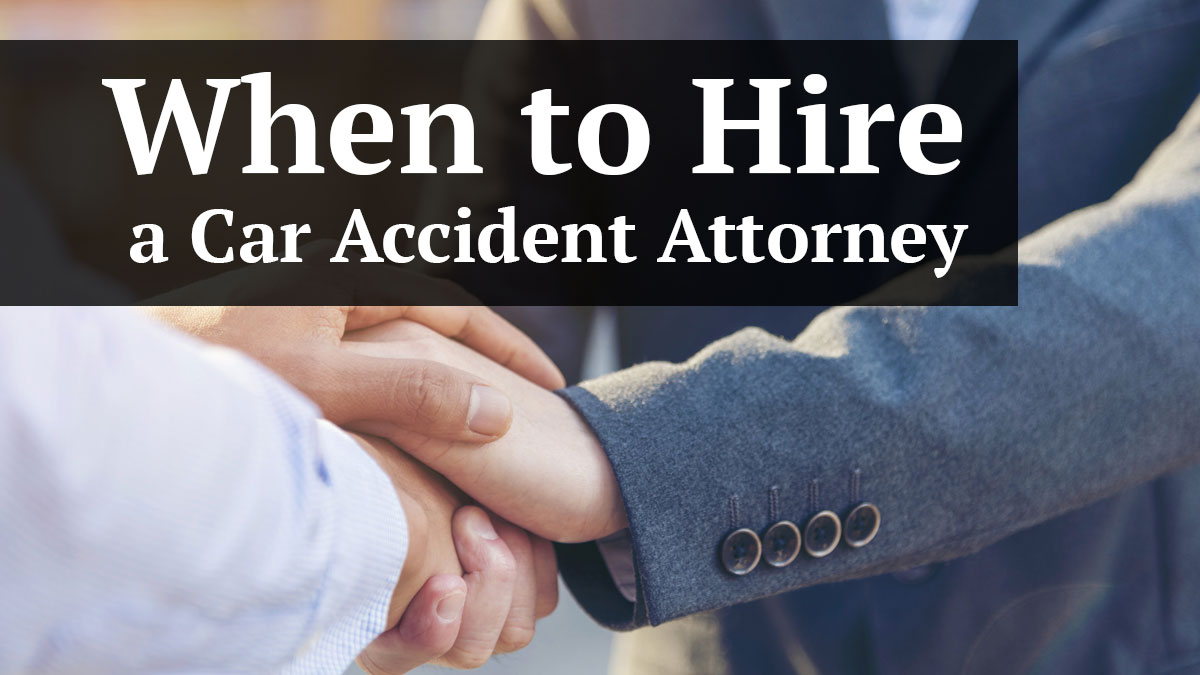 If you have been injured in a car accident in St. Petersburg or anywhere in the Tampa Bay area, you may be considering hiring an attorney. Car accident injuries are unlike any other type of injury. They often involve injuries to the spine that carry long-lasting repercussions. Car accident injuries are not like illnesses that go away in a week, broken bones that heal with a cast, or wounds that are fine after stitches. In addition, medical bills for your injuries are handled differently. Insurance companies have specific billing requirements and procedures for you to simply get the care you need. Many doctors that you know and trust do not handle car accident injuries because of these insurance hurdles. Thus, even though you were injured due to no fault of your own, you encounter all sorts of unwanted challenges. This is where a car accident attorney steps in. Only an experienced car accident attorney will be able to help you navigate through this difficult time.
Why Hire a Car Accident Attorney?
Unfortunately, car accidents are extremely common in St. Petersburg. The roads are congested with massive amounts of traffic. There are also many tourists that are unfamiliar with the roads. When you add in the large percentage of elderly drivers, you can understand why there are so many car accidents.
When you are involved in a car accident and are injured, you will want to speak to an attorney. The difference between damage to your car and damage to your body is an important distinction that requires legal guidance. An experienced car accident attorney will be able to point you in the right direction about how to get medical treatment. When you treatment is over, a car accident attorney will be able to properly prepare a demand for your damages.
What to Look for When Hiring a Car Accident Attorney
Most personal injury attorneys handle a variety of claims relating to recovering compensation for injuries. Car accidents are a normal type of personal injury claim. A car accident attorney should be well versed in dealing with car insurance companies. The attorney should have a record of dealing with similar car accident claims. The attorney must also know the medical providers in the area who are trustworthy and specialize in car accident injuries. You also should look at the online reviews of the attorney, his or her education and awards and accolades. Most top car accident attorneys will have been recognized by many lawyer rating services. By doing your homework, you should be able to find a car accident attorney that is the right fit for your situation.
When to Hire a Car Accident Attorney
The best general advice is that it is always best to hire a car accident attorney as soon as possible after the accident. While there is a four year statute of limitations on bringing an injury claim, this is often not an issue. If someone is waiting four years to bring a claim, then there are likely other issues with the case that have slowed it down. However, there are important decisions that need to be made soon after a car accident. These decisions will determine the direction of the claim. For example, under Florida's PIP laws, you only have 14 days to seek medical treatment for an emergency medical condition. There are specific rules about what types of providers you can see during this window of time in order to unlock the full $10,000 of PIP benefits. If you miss this deadline, your insurance company will likely refuse to pay your medical bills. Another example of time sensitivity is the choice of a medical professional and how quickly you see one. If you have gaps from the date of the accident until when you first get treatment, the insurance company will devalue your claim. It is their position that if you weren't hurt badly enough to see someone immediately, then you should be compensated accordingly. Therefore, it is paramount to speak to a car accident attorney who can send you to a medical specialist as soon as possible after the accident.
Questions to Ask a Car Accident Attorney
Before you hire an attorney, you will want to ask some specific questions. My advice is to find out if the attorney will be directly handling your case or passing it to a paralegal. Most large firms that have a high volume of cases have the paralegal handling all of the work. If that is not an arrangement that you want, do not sign the fee contract. I also suggest that you ask the attorney about their experience handling similar claims and what the results were in those cases. Finally, ask about how communication will work between you and the attorney's firm. I find that communication with clients is extremely important and can avoid many problems with cases down the road.
How Much Does a Car Accident Attorney Charge?
All legal fees for a car accident should be on a contingency basis, or a percentage out of the recovery of the case. This also means that if no money is recovered from your car accident injury, you don't owe the attorney anything. All costs should also be funded by the lawyer and then repaid out of the settlement. Do not be afraid to ask for a breakdown about what costs you have incurred on the case. Some large law firms that you see on television are notorious for padding those costs expenses in order to make more money off the case. There is nothing wrong about simply asking for an audit of those costs periodically so that you know what you are being asked to repay.
Car Accident Attorney in St. Petersburg
At St Petersburg Personal Injury Attorneys McQuaid & Douglas, we specialize in car accidents. While we handle many other types of injury law, car accidents are by far the most common. We handle all of our cases personally with the assistance of our staff. If our clients ever have a question about the status of their case or a strategic decision, we are involved. While our staff is well trained and knowledgeable, we have found that our clients appreciate the benefit of having a lawyer involved. As a car accident injury client, if you are going to pay ⅓ of your recovery for attorney's fees, you might as well have an actual attorney working on the file. Our consultations are always free and we are happy to answer any questions. We also are available to travel to your home or any other convenient place to meet if you do not have transportation or are too injured to be moved.