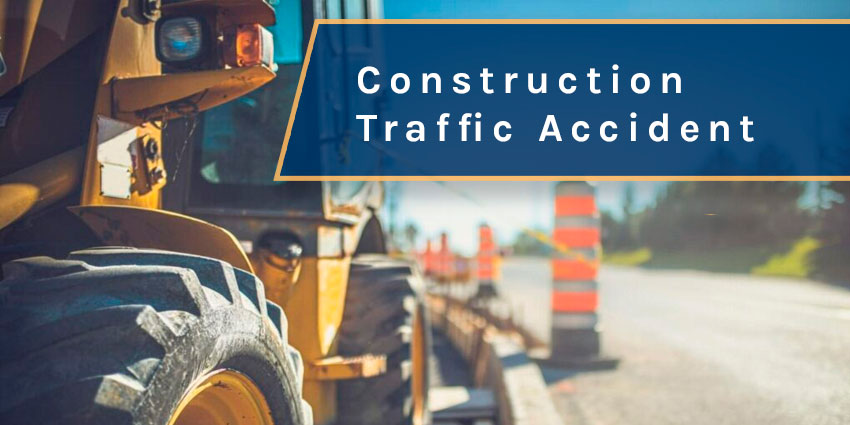 Florida is bursting with new roadway construction with the population constantly growing. From interstates to state roads, construction projects are virtually unavoidable in Florida. According to Florida's Department of Transportation, nearly 400 traffic fatalities occurred in construction zones between 2017 and 2021. Just days ago one person died when they crashed into construction equipment along SR-417 in Orlando.
Additionally, there were 2,000 more who suffered serious injuries from accidents in construction zones. In this article, we'll update you on all the current St. Petersburg construction projects so you can stay safe on the roadways.
Current St. Petersburg Construction Projects Where You
Drive With Increased Caution
FDOT reports the following construction projects currently underway in St. Petersburg:
9th Street South (Dr. Martin Luther King Jr. St.) Bridge Replacement from 6th Ave. South to 7th Ave. South
I-275 (Howard Frankland Bridge) New southbound bridge between Pinellas and Hillsborough counties
I-275 (Sunshine Skyway Bridge) Cable Painting
I-275 (Sunshine Skyway Bridge) Routine Bridge Maintenance
I-275 Repaving from the Skyway Bridge to south of Pinellas Point Dr.
Repaving Multiple Locations at SR 688 (Ulmerton Rd) and SR 580 (Main St)
SR 679 (Pinellas Bayway) repaving from Bunces Pass bridge to Madeira Circle
SR 682 (Pinellas Bayway) Repaving from SR 679 to 41st. St. S
SR 687 (4th Street) Bridge Replacement
US 19 (34th St) Repaving from SR 682 (54th Ave S) to 22nd Avenue N.
US 92 (4th St. N) Median Modifications from 30th Ave N. to 94th Ave N.
US 92 (4th St.) Pedestrian Improvements from 5th Ave N to 5th Ave S
What is a Considered A Work Zone in Florida?
According Florida Statute 316.003(109), a work zone is any highway or street with repairs, road maintenance, construction, or any other road-related work that requires closing a lane of traffic. A work zone also includes the area of construction in that zone.
Does St. Petersburg Have Traffic Rules for Drivers in Work Zones?
Drivers and construction companies have rules they must follow when driving in work zones and construction zones. Drivers have a responsibility to maintain the operation of their vehicle without any distraction and follow all posted traffic signs. Construction zones often have different speed limits, lange merging regulations, and closed roads. Drivers should be alert while driving through construction zones to prevent accidents and injuries.
Regulations for Construction Companies in Traffic Work Zones
Just as drivers have a duty of care to drive safely in construction zones, construction companies also have rules they must follow. They have a legal responsibility to set up a safe work environment for their employees and for drivers passing the construction zone.
For example, they must post signanage for reduced speed limits around construction areas. The amount the speed limit can be reduced in a construction zone depends on the type of road where the construction is. However, construction companies generally should keep speed limits as close to standard limits as possible.
FDOT also enforces specific regulations regarding placement and type of traffic signage. For instance, any sign alerting drivers of upcoming construction zones need to be between 200 to 1000 feet apart depending on the speed limit of the road. Construction companies must also use a specific material for signs to ensure drivers can properly see the posted signs. Additionally, signs must specify where the road work begins and ends. There are additional rules construction companies must comply with when setting up a work zone including lane width specifications, instructions for oversized vehicles and handling lane closures.
Penalties for Work Zone Violations in St. Petersburg
There are specific penalties for traffic violations in a construction zone. For instance, speeding in a construction zone could result in a higher fine than normal. According to FDOT requirements, construction companies must post signage to warn drivers of fines for speeding wherever workers are present. The fine is usually based on how much the driver was exceeding the posted speed limit and generally ranges from $50 to $500.
What Are the Top Causes of Car Crashes In St. Petersburg Work Zones?
Speeding and distracted driving are the two most common reasons for accidents in work zones in St. Petersburg. Speeding accounts for over a quarter of fatal car crashes in construction zones.
Other risk factors that increase the likelihood of accidents in work zones include:
Following too closely behind other cars
Stop and go traffic
Merging traffic
These all create hazardous conditions that usually end in rear-end collisions. Sometimes, construction companies or workers' negligence can be the cause of an accident. For example, if the construction company failed to put a necessary traffic sign or left debris in the middle of traffic, that could create unsafe driving conditions and make them legally liable.
Determining Liability For an Accident in a Construction Zone Requires a Skilled St. Petersburg Car Accident Lawyer
Determining liability in a construction zone accident is a complex process that requires an in depth investigation. Potential liable parties include another driver or a construction company. The best way to clearly establish liability is to have an experienced St. Petersburg car accident attorney work on your case. They know how to conduct a proper investigation and gather all the evidence needed to support your claim.
Were You Injured in a St. Petersburg Car Accident in a Construction Zone? Contact a Knowledgeable Attorney Today
If you were injured in a car accident in a construction zone in St. Petersburg, you need an experienced attorney to help you. Between lane changes, orange barrels, and other barriers, construction zones create dangerous driving hazards that can lead to severe accidents. As a victim of a construction zone accident that was caused by a negligent driver, you could be eligible to recover for damages.
Schedule your free initial consultation online today or call us at (727) 381-2300. We can give you honest legal advice about your case and help you determine if you are eligible for compensation or need to file a personal injury claim.