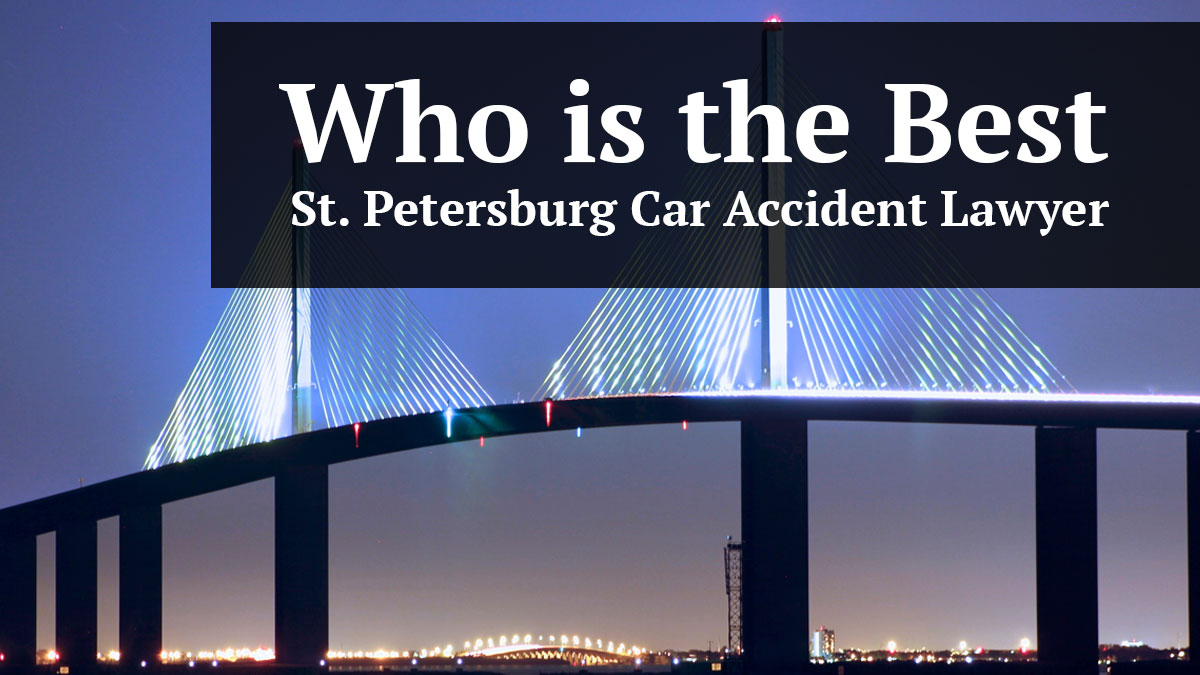 At St. Petersburg Personal Injury Attorneys McQuaid & Douglas, we pride ourselves by being different from the other law firms that handle car accident claims. We do not advertise on TV, radio, billboards or buses, so we do not carry a huge office overhead. That means that we can give personalized attention to each of our clients without being pressured to settle cases for less than what they are worth in order to pay advertising bills. Also, unlike the firms that spend a lot on advertising, at our firm, lawyers control the case, not paralegals or investigators.
Because our law firm was established in 1958, we are one of the oldest in St. Petersburg. That means we have a large footprint, relationships throughout the City, and are well known by the judges and insurance companies assigned to each case. If you are looking to hire a law firm that is experienced, honest, that puts your best interests first, and will recover the top dollar for your claim, please consider consulting with us.
What Benefit Does the Best St. Petersburg Car Accident Lawyer Provide?
If you have been injured in a car accident in St. Petersburg, you will likely be bombarded by calls by insurance adjusters while you are in pain and unsure what to do next. Once you hire a car accident lawyer, the insurance companies will be required to direct all future communications through him or her. Many clients find that this is a big benefit to them during this difficult time. Additionally, finding the right medical providers can be challenging and your lawyer can assist you with that. Since most people are used to getting medical treatment through their family doctor or general practitioner, they are unfamiliar with who to go. A car accident lawyer will be able to refer you to medical providers that specialize in car accident injuries. There are a lot of medical providers out there and not all will have your best interests in mind. In order to avoid being taken advantage of, hire an honest lawyer that works with honest medical providers. Additionally, many people get frustrated after a car accident because they do not know how their medical bills are going to be paid. A car accident lawyer can explain the medical billing procedure and make sure that you do not incur out of pocket expenses that cannot be recovered out of the proceeds of the injury case.
Does the Best Car Accident Lawyer Charge More Than Other Lawyers?
No. All car accident lawyers charge on a ⅓ contingency basis. This means that the lawyer is compensated only if money is recovered for you. So, since you will be paying a lawyer ⅓ regardless of whom you choose, why would you ever not hire the best car accident lawyer in St. Petersburg?
What Type of Money Can the Best Accident Lawyer Recover for Me?
The amount of money that can be recovered depends on several factors, including your injuries, your medical bills, and the amount of insurance coverage available to pursue. As part of your injury demand, your lawyer will make a claim for your injuries, your past medical bills, your future medical bills, lost wages, future lost wages, and pain and suffering. In every case, we maximize every settlement in order to put as much money in the pockets of our clients. We communicate with our clients about how much they are receiving before we negotiate and before we settle the claim.
Contact the Best Car Accident Lawyer in St. Petersburg
At St. Petersburg Personal Injury Attorneys McQuaid & Douglas, we specialize in car accident cases. Our clients become very close to us as we work with them during this difficult time in their lives. If you read our dozens of five star reviews on Google, you will see the impact that we have made on peoples' lives. Additionally, our lawyers have received accolades that are unmatched among other St. Petersburg car accident lawyers. We have been recognized by US News & World Reports as a Tier 1 law firm. Our lawyers have been recognized with perfect rankings by Florida Super Lawyers, Florida Trend Legal Elite, AVVO.com, and threebestrated.com just to name a few.
If you have been injured in a car accident in St. Petersburg and are looking for a lawyer, we hope that you will contact us for a free consultation.