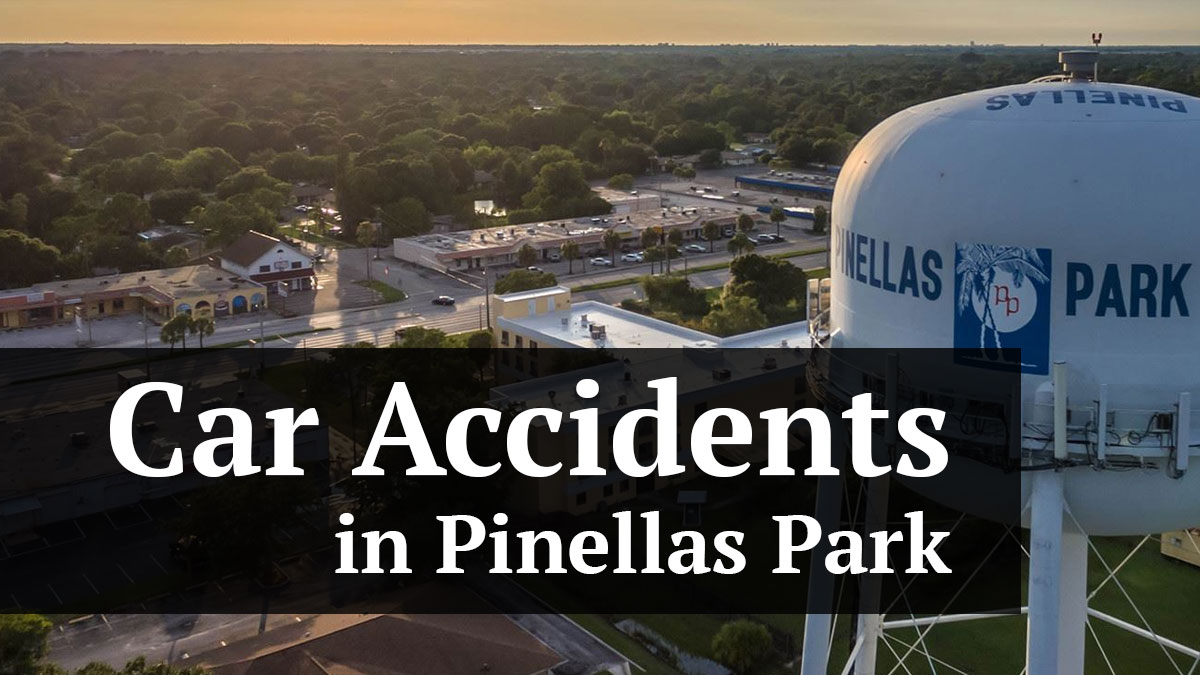 If you are familiar with Pinellas County, you may have observed the sheer volume of car accidents in Pinellas Park compared to the rest of the county. Although the population of Pinellas Park was only 52,854 as of 2017, it has grown into the 4th largest city in Pinellas County. Pinellas County is already the most densely populated county in all of Florida, so it makes sense that Pinellas Park would be at high risk for car accidents. However, the number of car accidents in Pinellas Park is not solely from a dense population center. This article will explore some of the reasons for the disproportionate numbers of car accidents in Pinellas Park.
Major Thoroughfares:
Pinellas Park is located directly in the center of Pinellas County. Unlike many cities, it does not have a highway running through it. But, it does have three very busy roads that cause a massive amount of vehicles to pass through Pinellas Park daily. US 19, 66th St. and Park Blvd all cut through Pinellas Park for several miles. These roadways are notoriously congested and dangerous. It is my opinion that these three thoroughfares through Pinellas Park are the main reason for the high number of car accidents.
Numerous Stop Lights and Pedestrian Crossings:
Across Pinellas Park are a ton of stoplights and pedestrian crossings. When vehicles are required to stop frequently, the chances for an auto accident increases. Again, because there is not a major highway or thoroughfare without stops in Pinellas Park, (Bryan Dairy Rd simply does not get enough vehicles to count) traffic is all forced onto the same few roads. Because most of the population of Pinellas County must move through Pinellas Park on the way to and from work, this is a recipe for constant car accident disasters.
Pedestrians:
There also is a tremendous amount of pedestrian traffic in Pinellas Park. I see a lot of pedestrians around US 19 and 62nd Ave. N. Near the Wawa on US 19, there are countless pedestrians crossing the street at all hours of the day and night. Further, there are numerous hotels and motels on US 19. The hotels are mostly weekly or monthly rentals. When the residents need to shop, they simply walk US 19 to head to the bus stop or wherever. Again, with pedestrians popping up all over on this major roadway, it is inevitable that an accident with a car will happen.
Car Accident in Pinellas Park:
If you have been involved in a car accident in Pinellas Park, the good news is that I am very familiar with the area and have handled countless cases there. There are also many medical providers that treat injuries from car accidents in Pinellas Park who are trustworthy and experienced. If you are from Pinellas Park, you will have likely noticed all of the car accident attorneys with offices on Park Blvd. Fortunately, our office is less than 10 minutes from Park Blvd. If you would like to discuss your case at no charge, I will be happy to make myself available at any time that is convenient.
Contact a Personal Injury Attorney
If you or a loved one have been injured in an accident, then you should take the proper measures to ensure you receive the compensation you deserve. Contact St. Petersburg Personal Injury Attorneys McQuaid & Douglas today and speak with an attorney. For over 60 years our firm has been successfully helping people who have been injured due to someone else's carelessness. We have been nationally ranked for decades by US News and World Reports as a Tier 1 law firm, which is the highest ranking that can be received. Sean McQuaid and Jonathon Douglas have dedicated their careers to continuing the firms legacy of superior legal representation.
Remember that we never charge a fee, unless we win. Call us today at 727-381-2300 so that we may answer your questions, help you navigate the complexities of insurance claims, and recover the compensation that you deserve.
We work hard to make sure each and every client gets the attention that they deserve. We appreciate feedback from our clients and reviews are validation of our work. Every 5-star review that we receive lets us know that our services were appreciated by our clients.
St. Petersburg Personal Injury Attorneys McQuaid & Douglas
5858 Central Ave suite a, St. Petersburg, FL (727) 381-2300
5 out of 5 based on 20 reviews
Sean McQuaid and Jonathon Douglas were voted best personal injury attorneys in Saint Petersburg, Florida for 2019.