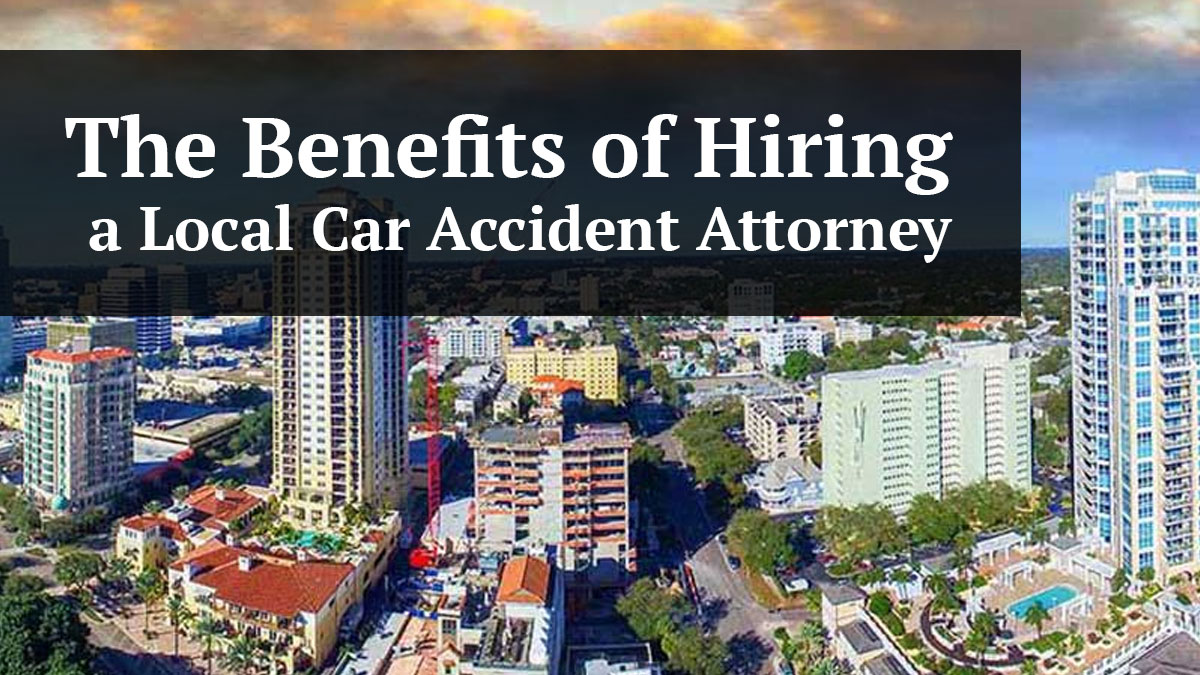 If you have been in a car accident in Pinellas County, you may be in the process of researching lawyers by looking online for a "car accident lawyer near me". If you have run this search in Google, Yahoo or even Bing, you will be presented with many options. How to find a local car accident lawyer may seem challenging. After you navigate through all the advertisements, you may be left wondering where to even begin. The following article is an attempt to provide some helpful tips to those who have been injured and are searching for a car accident lawyer near me.
Is the Car Accident Lawyer Near Me Really Located in Pinellas County?
A growing trend among car accident lawyers is to set up satellite offices in Pinellas County. This allows the lawyer to claims that they are local. In reality, the office is staffed by one paralegal and maybe an investigator whose job it is to drive to the client and have the contracts signed. Many of these clients have no idea that the car accident lawyer's main office is out of the area. Many of these satellite offices will require the paralegal to travel to the lawyer's main office to transfer the work. The lawyer may never even make it to the Pinellas County office. But, because the client was unaware of this system, the out of area lawyers continue to exploit this loophole. I have found that the best way to avoid a situation like this is to always speak to a lawyer before hiring that firm. You are entitled and should ask questions of the car accident lawyer, not a paralegal or an investigator. You are paying the same whether a lawyer handles your case or a paralegal, so insist that it is done by a lawyer. If not, find a local lawyer near you that will agree to that arrangement. At our firm, the lawyers meet with every client after a car accident at our office in St. Petersburg. We are always available for our clients. There is never a time that a client wants to speak to a lawyer that he or she cannot do so. Many of our clients have our personal emails, cell phones and direct office numbers. We have found that being local lawyers and near our clients improves the communication and thus, creates a smoother car accident claim.
Is the Car Accident Lawyer Listing an Ad?
Another technique that is bombarding the search engines are advertisements for car accident lawyers near me. Frequently, there will be four paid advertisements at both the top and bottom of each page. It is often difficult to decipher what is or is not an ad. The listings have such tiny language about an ad that you must be careful. But, if you pay attention, it is always a good idea to stay away from the ads. There is nothing about an ad that makes that lawyer local or near you. All the ad means is that some law firm has figured out that you will type in a term like car accident lawyer near me. All the law firm has to do is pay Google, Yahoo or Bing to have their ad appear when that term is searched. So, if you do get fooled and click on an ad rather than a legitimate ranking result, make sure you look for the office location. Again, make sure you look at the main office and it is near you and in Pinellas County.
What are the Benefits of Hiring a Local Lawyer?
If you want to maximize your claim, be kept updated and want to understand the process, then you will need to speak directly to a local car accident lawyer. While paralegals are fine for answering some questions and are good at relaying messages, the strategic decisions on your case should be made between you and your car accident lawyer. I have some clients who feel like they are bothering me by asking questions. I tell all of our car accident clients that they are paying for our services, so they should take advantage of them. I feel like it is always better to have too much communication during a car accident claim than not enough. I expect my car accident clients to tell me when something has changed in their treatment and to tell me when they are contemplating a more invasive medical procedure such as an injection or a surgery. I find that being accessible and local provides a tremendous advantage in handling every claim. At the end of the day, I handle all of the negotiations with the insurance adjuster so that I can fully understand their position. With this information, I feel I can better advise my clients. I have heard that many firms do not have lawyers meet with, speak with or handle the settlement process until the check is delivered. While that may work for some simple claims, I personally do not feel that this strategy maximizes the full value of a case. I do not rely on massive numbers of cases, so if you do not want to feel like a number or part of a mill, then do your research and find a car accident lawyer near you that will care about you, your case and your family.
I am always available for free consultations and am happy to come to your home to meet if you are physically unable or have transportation issues.
Contact a Personal Injury Attorney
If you or a loved one have been injured in an accident, then you should take the proper measures to ensure you receive the compensation you deserve. Contact St. Petersburg Personal Injury Attorneys McQuaid & Douglas today and speak with an attorney. For over 60 years our firm has been successfully helping people who have been injured due to someone else's carelessness. We have been nationally ranked for decades by US News and World Reports as a Tier 1 law firm, which is the highest ranking that can be received. Sean McQuaid and Jonathon Douglas have dedicated their careers to continuing the firms legacy of superior legal representation.
Remember that we never charge a fee, unless we win. Call us today at 727-381-2300 so that we may answer your questions, help you navigate the complexities of insurance claims, and recover the compensation that you deserve.
We work hard to make sure each and every client gets the attention that they deserve. We appreciate feedback from our clients and reviews are validation of our work. Every 5-star review that we receive lets us know that our services were appreciated by our clients.
St. Petersburg Personal Injury Attorneys McQuaid & Douglas
5858 Central Ave suite a, St. Petersburg, FL (727) 381-2300
5 out of 5 based on 20 reviews
Sean McQuaid and Jonathon Douglas were voted best personal injury attorneys in Saint Petersburg, Florida for 2019.