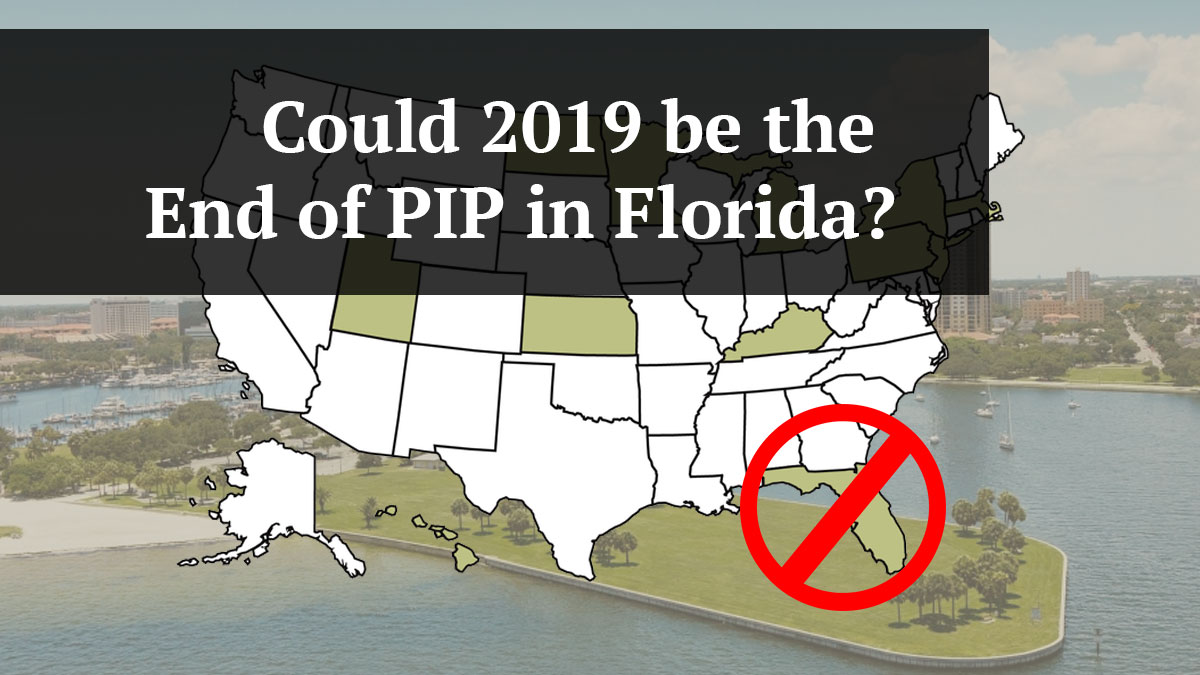 As of 2019, there are only 15 states remaining that require a form of car insurance called Personal Injury Protection (PIP) and Florida is one of them. For the past several years, the Florida legislature has addressed bill after bill attempting to end the PIP system. But, due to the reliance on the money provided by PIP by small businesses and hospitals, the measure to change Florida's car insurance system continues to be abandoned. This year, there are at least three bills that have been filed in the Florida House and Senate that all aim to end the PIP system. It is a strong possibility that 2019 will be the year that Florida eliminates PIP for good.
What is PIP?
Personal Injury Protection, also known as no-fault insurance was enacted in the 1970s in Florida in an attempt to eliminate lawsuits and provide money for medical care for injured people. PIP pays for up to $10,000 in medical bills and rehabilitative costs for both the driver and passengers after being injured in a car accident. PIP benefits also can be used if you are injured by a car, a pedestrian or on a bicycle. PIP is not required for motorcycles. PIP insurance pays the benefits regardless of who was at fault for causing the accident.
What does PIP cover?
PIP expenses can cover a wide range of options but are normally applied for hospital visits, medical imaging such as x-rays, ct scans and MRIs, medical procedures and treatment, lost wages, and even funeral expenses. The use of PIP benefits has become a large source of income for hospitals who seem to always generously bill PIP and leave limited resources for ongoing medical treatment. These types of abuses have drastically limited the effectiveness of the entire system.
The PIP system was once thought to be the solution to car accident victims in Florida. But, with the rise in lawsuits and car insurance premiums, it is evident that the system is antiquated and is no longer suited for our state.
While the hospital and chiropractic lobby has been successful in year past in keeping PIP, in 2019 it seems that the Florida legislature is serious about abolishing the system. Three bills have already been filed this year: Senate Bill 896 by Senator Brandes, Senate Bill 1052 by Senators Lee and Rouson and House Bill 733 by Representative Grall. It should be noted that Senator Brandes is from St. Petersburg and is familiar with the difficulties of the current system. All three bills would end PIP car insurance in Florida as of Jan 1. 2021. All three bills would require a mandatory 25/50 of bodily injury coverage to be required by drivers.
What is bodily injury coverage?
Bodily injury insurance coverage, or BI, pays benefits when you are at fault for causing injuries to another driver in a car accident. It covers the medical costs and pain and suffering for those other drivers and passengers that are injured. The limits of 25/50 mean that one person can recover up to $25,000 and there is a total of $50,000 that can be paid if there are multiple people injured.
If you are interested in tracking the status of the three bills in the 2019 Florida Legislature, go to www.flsenate.gov. All three bills have been referred to Committee in February 2019, so there will likely be some type of swift decision made this year. How the final result of this insurance reform looks is anyone's guess at this point.
Contact an Auto Accident Injury Attorney
If you or a loved one have been involved in an auto accident, then you should take the proper measures to ensure you receive the compensation you deserve. Contact St. Petersburg Personal Injury Attorneys McQuaid & Douglas today and speak with an attorney. For over 60 years our firm has been successfully helping people who have been injured due to someone else's carelessness. We have been nationally ranked for decades by US News and World Reports as a Tier 1 law firm, which is the highest ranking that can be received. Sean McQuaid and Jonathon Douglas have dedicated their careers to continuing the firms legacy of superior legal representation.
Remember that we never charge a fee, unless we win. Call us today at 727-381-2300 so that we may answer your questions, help you navigate the complexities of insurance claims, and recover the compensation that you deserve.
We work hard to make sure each and every client gets the attention that they deserve. We appreciate feedback from our clients and reviews are validation of our work. Every 5 star review that we receive lets us know that our services were appreciated by our clients.
St. Petersburg Personal Injury Attorneys McQuaid & Douglas
5858 Central Ave suite a
St. Petersburg, FL 33707
(727) 381-2300