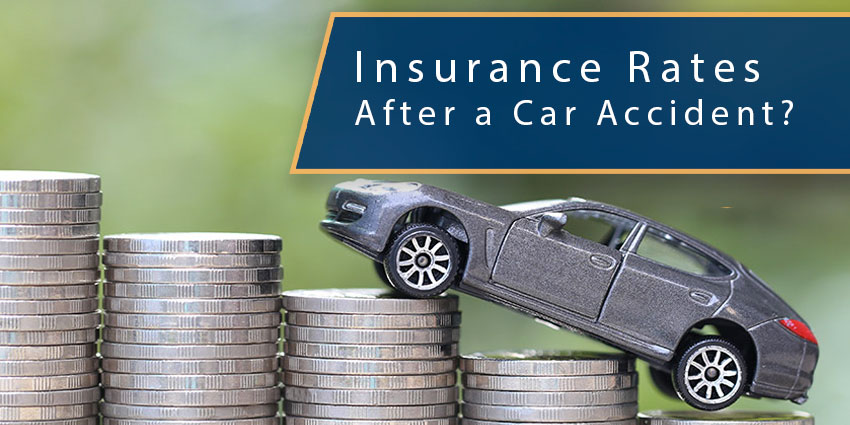 Being in a car accident can be scary. But waiting to see if your insurance rates will increase after an accident can be terrifying! In this article, we will review some of the factors that impact your insurance rates, how they influence your risk rating, and explain what you can do to avoid paying higher rates.
There are numerous factors that will affect whether your insurance rate increases after an accident. And not all insurance companies use the same methodology. However, all Florida insurance companies must comply with Florida law when making this decision. Florida Statute 626.9541 prohibits insurance companies from raising rates or canceling an insurance policy unless it can be proven that you were substantially at-fault for the accident. If an insurance company fails to comply with the Statute, that insurance company may be subject to civil liability and fines. The insurance company can be fined up to ten thousand dollars for each violation in addition to administrative penalties.
Factors That Impact Your Insurance Rates
Some of the most commonly reviewed factors that insurance companies consider when determining your car insurance premium include:
driving history
credit score
age
zip code
history of making claims
Driving History
Insurance companies will consider your driving record when calculating the cost of your car insurance policy. Drivers who are considered higher risk based on their driving history are charged a higher premium, even if they have been considered a safe driver in the past. If new claims indicate you've become a riskier driver, your insurance carrier could raise your rates.
As you can see from the table below, an average driver with just one moving violation can raise your rates. To add insult to injury, that same driver with poor credit can nearly double your insurance rates. (see more on credit score below)
AVERAGE COSTS OF CAR INSURANCE IN FLORIDA
Driver
ANNUALLY
MONTHLY
Average Driver
$2,208
$184
Drivers With a Violation
$2,902
$242
Drivers With Poor Credit
$4,194
$349
Adding a Young Driver
$4,913
$409
Credit Score
In Florida, insurers use your credit score to determine your insurance costs. A driver's credit score is one of the most significant factors that influences average auto insurance rates in Florida. A driver with an excellent credit score typically saves money on auto insurance premiums. A driver with a poor credit score pays an average of $2,093 more per year in Florida than people with an excellent credit score.
| | | |
| --- | --- | --- |
| | NATIONAL | FLORIDA |
| POOR CREDIT | $2,671 | $4,194 |
| FAIR CREDIT | $1,623 | $2,648 |
| GOOD CREDIT | $1,321 | $2,101 |
Your ZIP Code
Where you live can have a significant impact on your rates. If you live in an area that is densely populated, it is considered high-risk for traffic accidents. If you live in an area with a higher rate of crime, you can expect to pay higher rates. Auto insurance rates vary substantially from city to city. For example, Gainesville has the lowest auto insurance rates in Florida, while drivers pay for the most expensive coverage in Hialeah.
Age
New or first-time drivers, regardless of age, are considered high-risk drivers. But young drivers, under the age of 25, will pay a much higher rate for auto insurance. For example, a 16-year-old buying their own policy in Florida pays an average of $4,913. Whereas, a 40-year-old will pay only $2,208 on average. Once drivers reach age 25, car insurance rates drop nearly 33%.
History of Making Claims
Your claim history is not a factor that is publicized. But, insurance companies share this information. They will know if you have a history of making repeated claims-or just multiple claims within a short period of time. We have witnessed some of the cheaper/low end/cut rate companies in Florida gouge or cancel customers because of this factor.
After an Accident: Factors that Impact Insurance Rate Increase
After an accident, your insurance company will check your file to review your current risk rating, which was initially determined with your first policy and is reviewed and updated periodically. In addition to your driving history, the insurance carrier will also consider the following, as it relates to the current accident claim:
Severity of the Accident
Were injuries sustained?
Who is at fault?
Severity of the Accident
No two claims are alike. There is such a difference between a minor fender bender and an accident in which a vehicle is totaled. The severity of an accident is determined based on whether there were injuries, and the total cost of the claim, and are key factors when it comes to whether your insurance premium may increase.
Where Injuries Sustained?
Car insurance rates are slightly higher after an at-fault accident with injuries compared to an accident with only property damage. In Florida, your rates could increase anywhere from 22% to 77% depending on your insurance company. On average, State Farm has the lowest increase (22%), while you can expect a tremendous jump in your rates, 77% if you have coverage with Geico.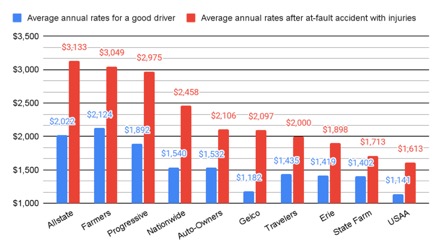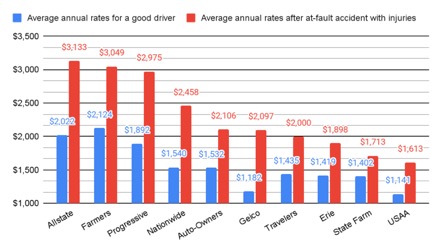 Who was at-fault?
Whether your insurance rate increases after an accident depends on whether you are found at fault. After you file a car insurance claim, (or a claim is made against you) an adjuster is assigned to your case to assess the damage and determine who is responsible for the accident. They will review the police report, interview those who were involved in the crash, and look at photos of the damage.
If you are not liable for a car accident, your insurance rates should not increase. Rates should only increase when you are at-fault for an accident that causes injuries or other damages. For example, the following situation should not result in an increase in your insurance rates:
You were the victim of a hit-and-run accident
Your car was hit by another vehicle when it was legally parked
Your car was rear-ended by another vehicle
Your car was T-boned by another vehicle
Your car was side-swiped by another vehicle
A collision with an animal or damage caused by falling or flying objects
Be aware that your insurance company may require documentation that supports that you were not at-fault for the accident. You may be asked to provide a copy of the police report, a statement from the other driver's insurance company showing they accept fault for the accident, the other driver's written statement, a statement from you about what happened, and any other evidence to support that you were not at fault.
But, I Thought Florida Was a No Fault State?
Florida is a no fault-insurance state. But, this only applies to payments for your medical bills if you are involved in an injury-related accident, no matter who is at fault. Who caused the accident is what is relevant to whether your insurance rates will go up.
What Should You Do If Your Insurance Company Raises Your Rates?
If your insurance company has raised your insurance premiums without cause, you have the right, under Florida law, to request that they provide you with proof the accident was your fault, or make them justify the rate increase or cancellation of your insurance policy. You can also file a formal complaint with the Florida Office of Insurance Regulation.
But, in reality, get a new company! There are numerous companies that will accept your business. If your current company doesn't want you enough to keep your rates the same, good riddance!
Should I Hire an attorney?
You certainly don't need a lawyer about a higher rate or being dropped. Your remedy in that situation is to simply get a new car insurance company. But, if you were injured by someone else during a car accident, you should consider speaking to a lawyer. There are many details to an injury claim that can be easily corrected with some timely advice. And, a financial benefit that having an attorney can provide is ensuring you are not found to be "substantially at-fault" for the accident, which keeps your insurance premiums down.
For over 60 years, our firm has been successfully helping people in Florida with insurance claims for their injuries. Among our thousands of success stories and credentials, we have been nationally ranked for decades by US News and World Reports as a Tier 1 law firm. Sean McQuaid and Jonathon Douglas are award winning car accident attorneys with a reputation for protecting their clients and not being afraid to fight the insurance companies.