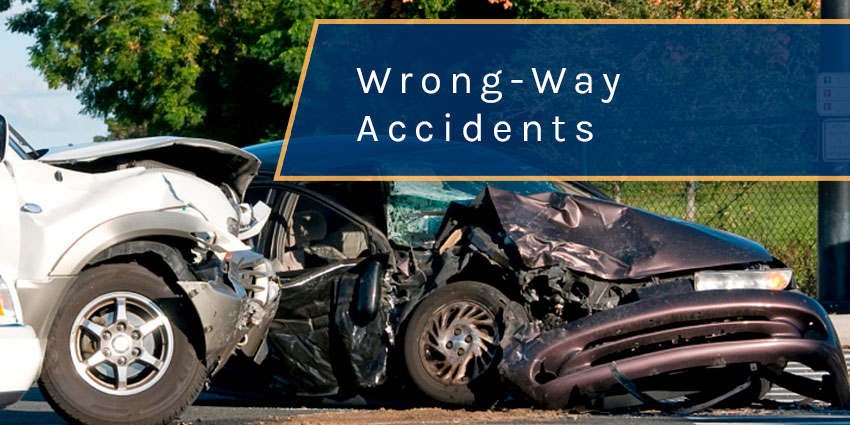 Wrong way accidents range from a simple mistake like a wrong turn, to drunk driving and other forms of recklessness. Data from the American Automobile Association (AAA) indicates that six out of ten wrong-way crashes are caused by a drunk driver. Elderly drivers are more likely to accidentally end up driving the wrong way, especially while driving alone.
Hundreds of people lose their lives to wrong-way accidents every year in the US. And while wrong-day accidents only account for a small percentage of traffic collisions, they almost always end in more serious injuries. Read on to find out more about how wrong-way crashes and their increasing rates in Florida.
What Constitutes A Wrong-Way Crash?
A wrong-way crash occurs when a driver travels in the opposite direction of traffic, causing them to collide head-on with another vehicle. Additionally, most wrong-way drivers occur on exit ramps or other controlled access highways. That means they usually occur at high speeds, making them even more dangerous than other types of accidents.
Imagine heading straight for a car that's coming towards you and crashing while you're both traveling at 50 mph. The impact of the crash would actually equate to 100 mph. You can probably infer that the end result for all parties involved will be catastrophic injuries or death. Even when traveling at lower speeds, if two cars collide head to head, the damage can be substantial.
Florida Is Taking Action to Prevent Wrong-Way Crashes
Florida Highway Patrol has recently announced that wrong-way accidents are a growing issue in Florida. According to Florida Highway Patrol Major Roger Reyes, Florida has witnessed over nearly 4,000 wrong way crashes that have resulted in just under 2,000 injuries and about 10 deaths.
Major Reyes also confirmed that wrong-way crashes produce some of the most fatal outcomes and often end in death. He went on to advise all drivers traveling at night to stay in the correct lane. He also encouraged people to stay in the right lane at night so they have a chance to veer off to the left if a car is coming from the wrong way.
More and more wrong-way crashes are happening in Florida. For example, a senior investigator of FWC was killed by a wrong-way driver under the influence of drugs and alcohol last June. Following that incident, five people died in a head-on collision in August 2022 in Miami-Dade County. Then, another wrong-way crash killed another three people in December 2022 in Deland, Florida. Yet another woman died in a fatal wrong-way crash weeks ago in Okaloosa County.
A New Detection System and Alert Platform to Prevent Florida Wrong-Way Crashes
Florida Highway Patrol announced a new detection system with advanced alert systems that will help save lives. The project will launch 11 new ramps in Miami-Dade in conjunction with efforts from the Florida Department of Transportation (FDOT), starting in April 2023.
An expert traffic operations engineer for FDOT has also designed new, dynamic technology to help curb wrong-way accidents. The new technology includes two-sided warning signs ('Do Not Enter' and 'Wrong Way Driving') with LED lights and motion sensors. When a driver passes the sign in the wrong direction, the LED lights will flash to warn the driver.
According to scientific data, the new LED motion-detector lights are anticipated to prevent nearly 80% of wrong way crashes. They will also increase awareness for other drivers when someone is traveling the wrong way. Construction for installation of the new signs is expected to be underway by April 2023.
More Details About Florida Department Of Transportation's Wrong-Way Driving (WWD) Initiative
The Florida Department of Transportation has supported research that aims to avoid wrong-way collisions. Their efforts have given rise to the new WWD stratagem which is meant to reduce fatalities and car accident injuries in Florida.
FDOT will add more pavement markings in addition to the new signs. The signs will follow federal guidelines for traffic control devices. They also plan to add additional signs at high-risk areas such as ramp intersections and exit ramps.
Why Do Wrong-Way Accidents Keep Happening in Florida Year After Year?
When a driver makes a wrong turn or enters a freeway on an exit ramp, they can cause wrong-way crashes. The leading cause of wrong-way accidents is driver negligence. Sometimes, a defective vehicle or poor road design can contribute, but they are rare. More common reasons why people cause wrong-way accidents include:
Drunk driving – Over half of wrong-way accidents are caused by a drunk or drugged driver. Most drunk drivers who cause fatalistic accidents are found to have a very high blood alcohol content (BAC).
Drivers with impaired abilities – older drivers cause nearly one in four wrong-way collisions, mainly due to impaired vision and slower reaction times. Both of these characteristics make them less able to recognize dangerous situations or act quickly to prevent a collision.
Distracted driving – distractions while driving can range from eating or drinking to reading a text or changing the song on the radio. Texting is one of the most dangerous forms of distractions because it takes the driver's eyes, hands, and focus off of the road. It only takes a few seconds for a distracted driver to merge the wrong way or turn onto the wrong highway ramp.
Drivers who are unfamiliar with roadways – when a driver is in a new or unfamiliar area, they are more likely to take a wrong turn down a one-way street or make a U-turn after missing the correct turn. This often happens when the driver is too focused on following a GPS or navigation system and not giving much attention to their actual surroundings. Consequently, they end up following their GPS or navigation the wrong-way or in dangerous directions.
Taking detours – any rerouting during traffic has the potential to cause a wrong-way crash.
Poor road design – Such a scenario often happens in cloverleaf designs where exit ramps are parallel. Additionally, intersections where highway entrances and exits co-exit create problematic areas for traffic. For example, a car making a left turn might accidentally turn prematurely and end up driving into oncoming traffic.
Lack of adequate signage – poorly marked ramps and insufficient signage to direct drivers can cause wrong-way accidents. This is one of the main considerations FDOT has taken in their approach to preventing wrong way accidents. It's often too late for drivers once they realize they are traveling the wrong way down a road.
Defective car parts – while this is a rare cause due to advancements in automobile design, it does happen from time to time. If a defective car part is responsible for causing a collision, the manufacturer could be held liable.
Wrong-Way Car Accidents Usually Cause Severe Injuries or Death
Accident victims who survive wrong-way accidents usually endure catastrophic or very severe injuries. In the worst cases, people die in these accidents. Even if they survive, they will likely need extensive medical care, hospitalization, surgery, physical therapy, or rehab. In addition to the financial burdens from medical care, they will also experience an emotional toll due the trauma, injuries, and overwhelming bills associated with the accident. Some unfortunate accident victims even face permanent disability or long-term damage. For these people, it may be difficult or impossible to live independently after the crash.
Other common injuries that result from wrong way accidents include:
Severe head and neck injuries
Spinal cord injuries, which often result in paralysis to some degree
Internal injuries or internal bleeding
Broken bones
Contact a Florida Car Accident Lawyer For Help With Your Case
If you were injured in a serious collision such as a wrong-way accident in Florida, call us for help. Our legal team will launch an extensive and thorough investigation into your case to get all the details. Then, we will help you hold the appropriate parties accountable.
We offer a free initial case review so don't hesitate to contact us today.