Motorcycle Accidents
A Motorcycle Accident Personal Injury Attorney can bring you much-needed hope and professional knowledge in your attempts to seek compensation for your injuries and damages following any motorcycle related incident. We know it's an extremely stressful period when you just want to focus on recovering and spending time with family.
In Florida, motorcycle accidents are common events. With the second-highest number of registered motorcyclists in the U.S., it also has the highest number of fatal motorcycle accidents. It's important to know what to do following an accident and what steps to take should you or a loved one be unfortunately involved. Should you need a Motorcycle Accident Lawyer, take advantage of our free consultation option to get you started.
With St. Petersburg Personal Injury Attorneys McQuaid & Douglas, you will get the helping hand you've been likely crying out for. For 60 years Battaglia, Ross, Dicus & McQuaid, P.A., have been providing exceptional legal assistance to Florida residents, including representing motorcyclists who have suffered severe motorcycle injuries. Personal Injury Attorneys McQuaid & Douglas are both partners at Battaglia, Ross, Dicus & McQuaid, P.A., and have been repeatedly recognized by their peers, courts and the community as premiere lawyers in Personal Injury Law. US News and World Reports ranked the firm as a Tier 1 Law Firm.
Don't make the same mistake; have a Free Consultation with us today.
Your rights for a Motorcycle Accident in Florida
A motorcycle accident in Florida has varying laws, depending on the specific scenario. Unlike car accidents, Florida law does not obligate motorcycle drivers to have Personal Injury Protection Insurance. Even if the driver does have PIP insurance, it will not cover injuries received in a motorcycle accident. However, if it can be proven that the accident was caused due to the negligent behavior of another person, then they are liable and can be made to pay compensation to you for your injuries and damages.
Common Causes of Motorcycle Accidents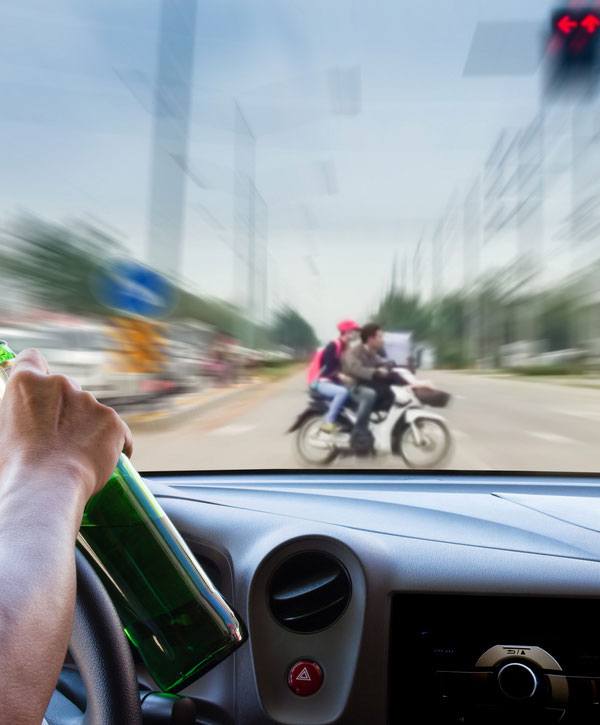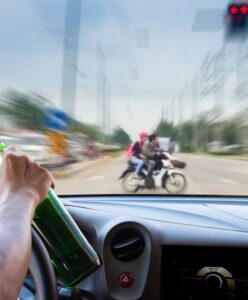 There are many reasons why another party may be liable for a motorcycle accident, here are the common ones:
Distracted Drivers
This can include any behavior that is negligent and distracts the driver from applying their full care and concentration. Some examples include: driving while using a cell phone, turning to look at a passenger or adjusting the radio.
Intoxicated Drivers
People still make the shocking choice to drive whilst drunk or intoxicated. This is a prime example of a cause that is applicable for punitive charges.
Aggressive Drivers
This is another punitive example and typically involves a frustrated driver threatening a motorcycle rider which results in a crash.
Traffic Violations
A common cause of motorcycle accidents is when a negligent driver ignores laws of the road, such as signposts or speed limits.
Defective Motorcycle Parts
These can often be overlooked initially after an accident. Faulty or poorly designed parts provided by the motorcycle's manufacturer can cause riders to lose control of their bikes, with no fault on any people on the road involved.
It is important to never admit fault after a road accident. As the above show, there are many reasons for the causes of a motorcycle wreck that may not have been initially obvious. A Motorcycle Accident Personal Injury Attorney knows what evidence to look for and can help analyze your accident, with the help of an expert in a specific area if required.
The 'Statute of Limitations' Deadline
As with Auto Accidents, motorcycle accidents have a time limit. The deadline is four years from the initial accident date for a personal injury claim and two years from the date of a fatality, in a wrongful death claim.
Contacting a Motorcycle Accident Personal Injury Attorney soon after the bike accident is a crucial, as deadline could stop you from the chance of receiving any of the damages you deserve.
Potential Damages you may be entitled to
If negligence or fault can be proven then you may be entitled to compensation for the following:
Medical Expenses. This covers the expenses paid out for medical care since the accident and also potential future costs. It can be anything from surgery to hospital expenses, drugs and therapy.
Missed wages. This could be crucial in helping you move forward. Any missed work dates following an injury are likely to be compensated.
Pain and Suffering. This can be compensated for the sheer stress that you have received from an accident that wasn't your fault. Depression, anxiety and grief are also applicable.
Potential punitive damages. This is where the other party is forced to pay you for their negligent or dangerous behavior.
Why hire a Motorcycle Accident Personal Injury Attorney?
The last thing you want while recovering from your accident is to be battling daunting insurance companies and their experienced lawyers. They can be extremely difficult to take on if you file a personal injury claim alone. Here's why the assistance of a Motorcycle Accident Personal Injury Attorney is crucial for a successful outcome:
An attorney removes the legal pressures placed on you when you'll need to be focusing on recovering and working or being with your family.
You won't receive stressful phone calls from the insurance companies and you can relax knowing that you're in safe hands.
We ensure evidence is preserved correctly. The evidence tends to be lost in a matter of days or even hours; we will work to make sure it is secured.
Insurance companies will exploit the stress you're going through, often pushing you into admitting a mistake. They will do their best to ensure that you win as little as possible from them. Our expertise tackles this so we can get you the best results.
Acting soon will give you the upper hand and avoid the chance of hitting the deadline.
The longer you wait without an attorney, the more time the insurance companies gain to devalue your claim.
Vastly greater compensation results can come from the work of Motorcycle Accident Personal Injury Lawyer, than an individual claim.
We'll be your advocate throughout the entire process and effectively handle all the legal work and procedures for the optimal outcome.