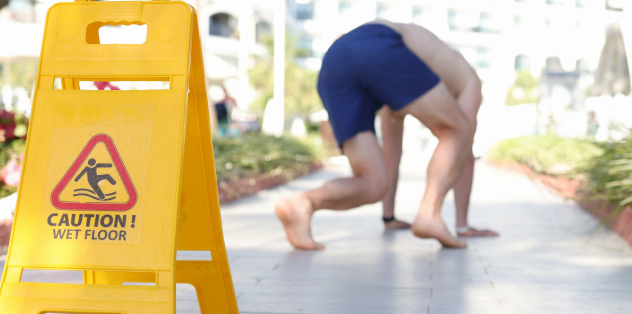 Premises Liability is an area of a personal injury law that is relevant when a person has suffered an injury, due to the unsafe or dangerous condition of the property owned by another. A Premises Liability Personal Injury Attorney can handle your case with their unparalleled experience and knowledge during this stressful time in your life, to bring you the optimal compensation.
For 60 years Battaglia, Ross, Dicus & McQuaid, P.A., have been providing exceptional legal assistance to the Tampa Bay area. Battaglia, Ross, Dicus & McQuaid, P.A., is ranked by US News and World Reports as a Tier 1 Law Firm. Personal Injury Attorneys McQuaid & Douglas are both partners at Battaglia, Ross, Dicus & McQuaid, P.A. and have been repeatedly recognized by their peers, courts and the community as premiere lawyers in Personal Injury Law.
If you believe you have a Premises Liability case, use our Free Consultation service today to get started on receiving the help and compensation you deserve.
Premises Liability Explained
Every day we all enter shops, restaurants, hospitals, transport stations, clubs and many more locations where we put our trust in the safety of these locations. We naturally expect these premises to be safe, but accidents can happen: a wet floor can cause a slip and fall, shelving can fall on someone's head, or a dog can attack without warning signs or other advance warnings.
Property owners have an obligation to make sure their premises are up to safety standards and code, to prevent such incidents. They need to ensure that visitors are always safe, and this includes often overlooked aspects such as lighting and fire sprinklers. However, when they fail to do so and an injury occurs as a result, then they are liable to pay compensation to the victims. A personal injury claim can be made under Premises Liability.
Premises Liability Negligence in St. Petersburg
A St. Petersburg Premises Liability attorney must be able to prove that the cause of the injury was due to the business or owners' failure to meet safety standards. Not all injuries that occur mean the property owners are liable. For example, in Florida, an owner can only be held liable for a slip or fall if the dangerous conditions were foreseeable or known of beforehand.
In a typically successful case the injured person must prove:
The property owner was aware or should have been aware of dangerous conditions.
The property owner failed to fix or give warnings of these dangerous conditions.
The person was injured as a result of the dangerous condition.
It is important to note that any person entering another person's property is expected to behave with care.
Types of Premises Liability Cases
There are many different cases for why a property owner may be liable for the injury. It may be extremely obvious, or something later revealed thanks to the work of a premises liability attorney. Typical examples include:
Broken or dangerous sidewalks
Poor Lighting
Obstructions in pathways or stairs
Slippery floors
Inadequate handrails on stairways
Uneven steps on stairways
Badly lit stairwells
Faulty doors or windows
Negligently displayed products
Elevator or Escalator Accidents
Swimming Pool Accidents
Exposure
Fires
Negligent security measures
A significant example of the work of an attorney came in 2008 when Florida witnessed a now-famous case between Southstar Equity LLC v. Lai Chau. Lai Chau rented an apartment owned by Southstar Equity. One night while leaving her car in the apartment complex, she was abducted and shot three times in the head. Lai Chau's survivors received $15.7 million in damages as it was proven that the rental company had lied about the criminal activity in the area.
Levels of Care
The level of care required from a property owner varies depending on the circumstances of which they entered the property. The four most common of these circumstances are:
Business Invitees
These are people who enter a property for business reasons. It is a broad term, but it would cover anyone: entering a grocery store to buy food, anyone who stops at a gas station, or even a plumber entering someone's home to carry out work.
It is crucial that property owners keep conditions safe and give prior warning to any conditions.
Regular inspection should be taken of the property and owners may be liable for dangers they should have foreseen.
Licensees
This is for people who are on a property for purely social reasons. This might be friends and family at a BBQ or a neighbor visiting.
An owner may be liable if a licensee is injured due to unsafe conditions or known dangers that were given no warning (such as a dangerous dog or slippery floor).
Trespassers
Trespassers may have no permission to be on the property, but if they are injured, then they may still be able to claim against the owner. For example, this could be a tripwire or other life-threatening instrument causing injury.
The owner has to warn the trespasser of any unrecognizable dangers or harms, once the trespasser has been discovered on the property.
Children
Special duty is owed to children, and special care must be taken to protect them.
The 'Attractive Nuisance Doctrine' means that property owners must take precaution so that any potentially dangerous property that may attract children is treated with special care.
For example, a swimming pool may need a fence with a locked gate.