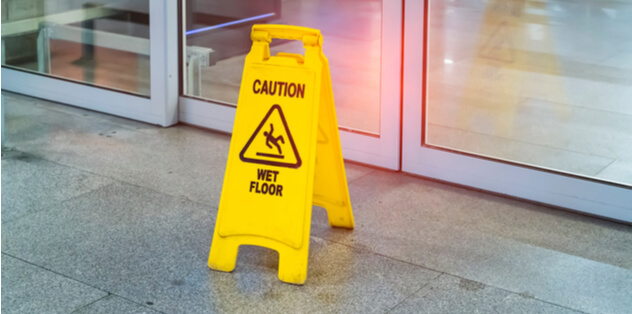 Winn-Dixie Slip and Fall Personal Injury Claims
If you've suffered injuries due to a Winn-Dixie slip and fall or any other accident at a Winn-Dixie store, then you may be entitled to compensation. If you've experienced serious injuries such as back injuries, neck injuries or broken bones, then consider contacting a Winn-Dixie slip and fall attorney so you can make a claim to get the money you deserve.
In our experience, Winn-Dixie often takes responsibility for any injuries that happen on their property. They prefer to take care of their customers, rather than risk damaging their standing in the community.
Winn-Dixie has nearly 500 stores across the U.S. with revenues of over $10 billion. With such a large customer base across the nation and Tampa Bay, they are familiar with the claims compensation process and respect experienced slip and fall attorneys, such as ourselves. Contact us today so that we can guide you towards a successful compensation claim, to help you get your life back on track.
Experienced Personal Injury Attorneys For Winn-Dixie Slip and Fall Personal Injury Claims
As one of the most popular discount stores in Florida, Winn-Dixie's personal injury claims are commonplace. Sean McQuaid and Jonathon Douglas have successfully filed many Winn-Dixie slip and fall claims, helping clients win significant settlements, which cover their medical bills, lost wages, injuries and pain and suffering.
Mr. McQuaid and Mr. Douglas have earned premier attorney distinctions. Their firm is respected as one of West Florida's oldest and most respected law firms, with over 60 years of successful legal assistance to Tampa Bay residents.
If you've suffered from an accident in a Winn-Dixie store, then you need a Winn-Dixie Slip and Fall attorney. Please take advantage of our free consultation service to get an assessment of the claim and the potential value.
Winn-Dixie's Locations in Pinellas County
Winn-Dixie has many stores across Pinellas County, where we have experience dealing with Winn-Dixie slip and fall claims.
How Do Winn-Dixie Slip and Fall Accidents Happen?
Like any grocery store, Winn-Dixie has a duty to keep its customers safe. If there was a dangerous condition or if there was a hazard, then Winn-Dixie should have dealt with it or put proper warnings in place. It only takes one dirty floor or spill for an accident to occur and result in injuries such as broken bones and injuries to the back, neck or knees. Frequent accidents at Winn-Dixie include:
Carts and pallets blocking aisles
Faulty fridges and freezers leaking, which result in slips.
Floors being cleaned, but with a mop that leaves the floor slippery.
Loose or slippery floor mats.
Dangerously stacked products that fall.
Product debris that results in slips.
Wet floors near entrances, that should have been cleaned.
Faulty doors.
Faulty products that have caused accidents.
Negligent staff.
Unsafe surfaces or potholes in the parking lot.
Sharp or damaged fixtures and shelving.
When Is an Injury the Fault of Winn-Dixie?
Legally, Winn-Dixie must ensure that everyone on their property is safe from any hazards. If they failed to clear a danger, or never warned you about it, then you likely have a case. If you've suffered an injury while on Winn-Dixie premises, then contact a Winn-Dixie Injury Claim attorney to get the money you deserve.
A Winn-Dixie Slip and Fall Attorney will ask:
Was Winn-Dixie or its employees aware of the danger that caused the injury?
Did Winn-Dixie fail to clear the danger, or warn you about it?
If Winn-Dixie was unaware, should they have known?
If Winn-Dixie was unaware, did they have time to address the hazard before the injury occurred?
Was the accident reported?
Do you witnesses or pictures?
In many cases, Winn-Dixie's negligence leads to an accident. We've seen poor staff training, defective machinery, missed risk assessments and more lead to slippery floors and dangerous aisles. In almost every Winn-Dixie accident, the store should and could have done better.
Winn-Dixie Slip and Fall Personal Injury Claims
Common Types of Winn-Dixie Accident Injuries:
Minor to severe bruising.
Cuts and lacerations.
Fractured or broken bones.
Neck, back and spinal cord injuries.
Sprained ankles, wrists, and hands.
Concussions.
Can I Claim for a Winn-Dixie Accident If It Was in the Parking Lot?
Yes. Winn-Dixie personal injury claims related to any accidents that occur on their property. That includes the parking lot. Dangerous surfaces, slippery floors, incorrect signage and more may all have been a reason that led to your accident.
What Settlement Could I Be Entitled To?
Injuries suffered in Winn-Dixie slip and fall accidents can be severe and result in lost wages, lost future wages, medical costs, mental anguish, pain and more. We've seen injuries as serious as broken bones and back and neck injuries. In these cases, grocery store accident cases reach as high as six-figure payouts.
Whether you've suffered a minor or a life-changing injury, it's worth contacting a Winn-Dixie Personal Injury Attorney so you can file a claim to help you recover from an accident that wasn't your fault.
Types of Winn-Dixie Slip and Fall Evidence
To prove Winn-Dixie's negligence, we'll need to show as much evidence as possible. Thankfully, Winn-Dixie stores are lined with CCTV and witnesses to help your case.
Third-Party Reports (Ambulance, doctors and pharmacist reports)
Digital Media (CCTV or Phone Recordings)
Previous Injury Claim Reports against Winn-Dixie
Eyewitness Reports from staff or other customers
Consultant and Expert Analysis
If you haven't filled out an incident report yet, then you should return to the store to do so immediately. Delayed reports can lead to a loss of crucial evidence.
Why Hire a Winn-Dixie Slip and Fall Attorney?
If you've been the victim of a Winn-Dixie Slip and Fall, then you shouldn't tackle the legal battle alone. Winn-Dixie has vast experience with personal injury claims and they'll exploit your lack of knowledge, if you're not backed by an experienced Winn-Dixie slip and fall attorney.
The best Winn-Dixie slip and fall lawyers will handle all the complicated legal work involved, giving you a realistic chance of recovering the damages you deserve. A reputable Winn-Dixie Slip and Fall Attorneys services will include:
Deal directly with Winn-Dixie, the claims representatives and lawyers;
Investigate your claim and protect evidence, such as CCTV footage and witness information;
Be equipped to confidently manage the complexities of a Winn-Dixie Slip and Fall case;
Identify all damages you've suffered, from medical bills to lost wages;
Direct your medical treatment and watch your bills;
Be your advocate from start to finish, when you need it most;
Give you the best shot at winning the compensation you deserve.