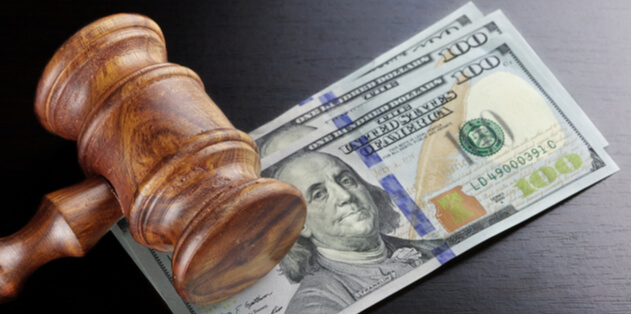 If you were hurt in an accident that was caused by someone else's negligence, you could choose to pursue compensation from that party in a personal injury claim. Hiring an experienced lawyer to help with your claim is always in your best interests, but you might worry about how much hiring a personal injury attorney costs. You shouldn't worry. Personal injury lawyer fees operate differently from other attorney fee structures, and that difference benefits you. At Personal Injury Attorneys McQuaid & Douglas, you won't pay us anything unless we get you the compensation you need.
For more than six decades, our personal injury law firm has worked tirelessly to earn a reputation for honesty, integrity, and successful results for our clients. Contact us today for a free case review. You'll rest easier knowing your case is in capable hands.
How Much Does a Personal Injury Lawyer Cost?
At Personal Injury Attorneys McQuaid & Douglas, we believe that accident victims should not have to worry about whether they can afford justice. That's why we use a contingency-fee system. It allows you to hire our personal injury attorneys without any upfront fees. Instead, we agree to work on your case and take our fee as a percentage of what we ultimately recover for you. If we don't win, you don't pay.
What Is a Contingency Fee?
A contingency fee refers to an arrangement under which an attorney agrees to represent a client for no money paid upfront by the client. This contrasts with the standard attorney compensation arrangement in which lawyers require clients to pay upfront retainers and charge for their work on an hourly basis, deducting from the retainer as work is performed.
When you hire a lawyer on a contingency-fee basis, you're not required to pay anything for the personal injury attorney to begin work on your case. Instead, the attorney charges a percentage of the total compensation won in your case through settlement or at trial.
The standard contingency-fee percentage is 33 percent, but it can vary between 25 percent and 40 percent. Factors such as the complexity of the case and how long it takes to resolve could affect the percentage. If a complex case goes to trial, the attorney might request a larger contingency-fee percentage to account for the length and difficulty of the case.
Is It Worth Hiring a Personal Injury Lawyer?
Hiring a personal injury lawyer offers many benefits. Most importantly, personal injury claimants with legal representation typically recover significantly more compensation than claimants who try to handle their cases alone. A personal injury lawyer can do all the legal legwork needed to pursue your claim, including:
Investigating the accident that caused your injuries
Securing physical evidence, documents, and witness statements necessary to prove your claim
Collaborating with experts who can provide testimony to bolster the strength of your claim
Evaluating the full extent of your losses, including future anticipated losses and non-economic losses such as pain and suffering
Preparing and sending demand packages to the insurance companies to begin the settlement process
Aggressively negotiating with insurance adjusters and defense lawyers to demand fair and full compensation for your injuries
Filing your personal injury lawsuit in court and pursuing your case all the way to trial and verdict, if litigation represents the best opportunity for compensation
When you allow a personal injury lawyer to handle your claim, you can focus on your physical and emotional wellbeing, not bureaucratic forms or legal requirements.
How Much Do Clients Pay Their Attorneys for Personal Injury Cases If They Lose?
If a personal injury lawyer is paid a percentage of the money recovered in your case, what do you pay if the lawyer does not secure a settlement or win your case at trial? Nothing. In contingency-fee arrangements, clients are not required to pay any legal fee to the attorney if no money is won in the case. This means that you can pursue your personal injury claim at no financial risk.
And because your lawyers don't get paid unless they win compensation for you, your attorneys have the same goal as you do: maximum compensation. Because personal injury lawyers get paid a percentage of the total compensation secured in your case, they will work hard to recover as much as possible.
What to Expect in a Free Consultation
In addition to operating on a contingency-fee basis, most personal injury lawyers offer prospective clients a free, no-obligation consultation. In a roughly one-hour meeting with the attorney, you can decide whether to hire the lawyer at no risk or cost.
Knowing what to expect in a free consultation with a personal injury lawyer allows you to have the most effective meeting possible. First, a free consultation offers the lawyer an opportunity to learn about the basic facts and circumstances of your case. This might include talking about the accident and the injuries you suffered, as well as reviewing some documents. It can help to write down any questions you have ahead of time, so you don't forget to ask anything.
During the consultation, the attorney can evaluate whether you might have a viable case. At the same time, you can decide whether the lawyer has the experience and resources to handle your claim properly. In your free consultation, you should ask the attorney about his or her professional experience (including experience handling cases similar to yours). You should also ask about litigation experience and the attorney's track record of winning cases. It's also a good idea to ask about how the attorney will work with you on your case, including whether another attorney in the firm will actually handle your case, how quickly the attorney will respond to your phone calls and emails, how often you can expect updates in the case, and what the attorney expects from you.