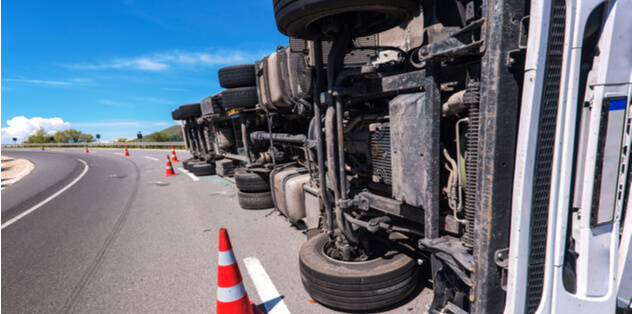 Landscape Truck Accidents – What Should Be Done First?
The first steps after a landscape truck accident are fairly standard. Always contact the police. If the other driver tries to convince you to cut him a break and just exchange insurance information, decline. You need to protect yourself. There is a reason why the driver doesn't want the police involved and too many people learn this hard lesson after the fact.
While you are at the scene, take as many pictures as possible. Don't just take pictures of your vehicle. Make sure you photograph all of the cars involved, the drivers, and the license plates.
The next step after any truck accident is to get medical treatment as soon as possible. If you have any questions about the severity of your injuries, go to the hospital. If your injuries do not rise to that level, go to an urgent care or walk in clinic. The key is to get seen as soon as possible. In the days following the accident, we will then be able to direct you to quality doctors who can take over the treatment and get the proper diagnostic tests done.
Who Pays My Medical Bills After a Landscaping Truck Accident?
The biggest difference between a truck accident and any other car accident is that the truck is not required to carry PIP (no fault) insurance. This means that your first $10,000 in benefits must come through your own motor vehicle insurance (or a resident relative's).
Once the PIP (no fault) insurance of $10,000 is exhausted, you can either obtain medical treatment through your health insurance or through a LOP (letter of protection). We will be able to advise you about the best route to take for your case. Our goal in every case is to ensure that your medical bills are covered, so do not fear. We always prioritize this part of any accident claim because it is a very important factor in protecting our clients.
What Are the Causes of Landscape Truck Accidents?
We have seen all kinds of accidents with landscaping trucks. But, the most common problem is driver error. Did you know that you don't need a commercial driver's license to operate one of those trucks? This exception in the law allows untrained and inexperienced people to be driving large trucks. When you add in the fact that many of the drivers have suspended licenses, or are illegals with no license at all, the reasons for the numerous crashes become clear. We have also seen many of the workers drinking and smoking marijuana on the job or when they finish up the day. They then pile in the truck and drive home. Talk about a danger!
The second most common cause for accidents in lawn care trucks is that they operate on narrow roads. Because the trucks are large and the roads are narrow, there is much less space to maneuver. Inevitably, these circumstances lead to accidents.
Next, the landscaping trucks do not have great sight lines. Their field of vision to the side and rear can be limited due to the load that they are carrying. Again, with limited sight, the chances that an accident occurs increases.
Whatever the cause for the accident, we will aggressively pursue the driver. We see in many cases the drivers were impaired and arrested for DUI. Sometimes, especially when the driver doesn't have a license, they will try to run. As long as the truck remains on scene, the owner is responsible and we will make sure that they pay.
How Much Do You Charge for a Truck Accident Case?
All truck accident lawyers charge exactly the same way. We charge on a contingency basis, or a percentage of the money that is recovered for you. This fee is normally 33%. The benefit to a contingency agreement is that if we do not recover any money for you, you do not owe us anything. This makes the hiring of the best possible lawyer no risk to you. You never have to put any money down, pay a retainer, or make payments.
Contact a Landscape Truck Accident Attorney Immediately
We understand how devastating an accident with a landscaping truck can be. Your vehicle is always the smaller of the two and thus, has the most damage. If you want to get quality medical care, maximize your recovery, and have your medical bills paid in full, please contact us for a free consultation. The first few days after an accident are the most important, so please do not delay.