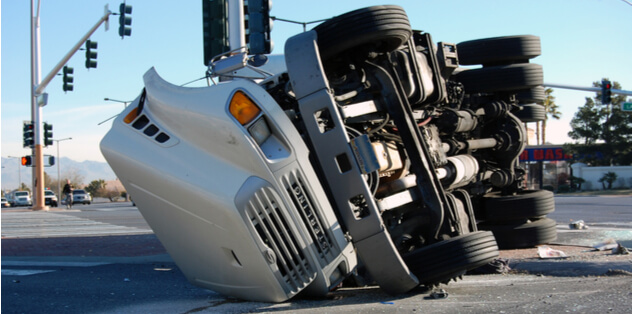 An accident with a massive semi-truck can cause severe injuries, extensive property damage, and have a devastating impact on your life. In addition to this, truck accidents are much more complex than other kinds of motor vehicle crashes because multiple parties may be responsible for the wreck, from the truck driver to the trucking company to the maintenance group that worked on the truck. Determining liability in a truck accident is crucial so that you can pursue the full and fair compensation you need.
If you've been injured in a truck accident, turn to Personal Injury Attorneys McQuaid & Douglas. For more than 60 years, our firm has served injured accident victims throughout the Tampa Bay area. Over the decades, we've built a solid track record of successfully obtaining favorable outcomes against large trucking companies and deep-pocketed insurers.
Contact us today for a free initial consultation with a knowledgeable St. Petersburg truck accident lawyer. We can walk you through who might be held liable for your accident and answer all your questions.
Who Can Be Held Liable for a Truck Accident?
Liability for most types of motor vehicle accidents falls on the drivers or motorists involved in the crash. But a truck accident may be caused by other parties besides or in addition to the truck driver involved.
Truck Driver Negligence
In many cases, a truck accident is caused by the negligent operation of the truck by its driver. Truck drivers can commit acts of negligence such as:
Speeding or driving too fast for conditions
Tailgating
Failing to check mirrors and blind spots
Failing to signal before turning or changing lanes
Reckless driving, including weaving in and out of traffic
Driving under the influence of alcohol and/or drugs
Driving while tired or fatigued
Distracted driving, such as texting while driving, eating or drinking, adjusting the radio or climate control, or even simply daydreaming
Trucking Company Negligence
The trucking company can be held liable for the truck driver's negligence when the driver is employed by the trucking company. Employers can be held responsible for employees' negligent acts committed in the course and scope of the job.
A trucking company can also be held liable for negligently hiring, training, or supervising a driver, including failing to ensure that a driver had the proper training and experience to operate a specific type or size of truck. In addition, the trucking company may be responsible if it was aware that the driver was violating trucking regulations or otherwise operating the truck in an unsafe manner.
Not all truck drivers are employed by the trucking company that hires them. Some truck drivers work as independent contractors, accepting assignments from multiple trucking companies. Even if the trucker is an independent contractor, the trucking company might still be held liable for negligently retaining a truck driver who it knew posed a significant risk of causing an accident. The trucking company may also be held liable when it should have known that a driver posed a risk but failed to conduct an adequate background check.
Truck Manufacturer Negligence
When a truck accident is caused by a defective truck or a defective truck part, the manufacturer of the defective truck or truck part may be held liable for the injured victim's losses in a product liability claim. These types of claims are incredibly complex. So it is crucial that you have an experienced truck accident attorney on your case.
Truck Owner Negligence
In some cases, the truck involved in an accident is not owned by the truck driver or the trucking company. Instead, for financial reasons, the truck may be owned by a third party that leases it out to the driver or the trucking company.
Truck owners must properly maintain their vehicles. When the truck's owner defers or fails to conduct maintenance on the vehicle, either due to an oversight or in an effort to cut costs, the owner can be held liable for a truck accident caused by a mechanical failure that could have been prevented.
Safety Inspection Negligence
Truck drivers and trucking companies are required under state and federal regulations to conduct regular mechanical inspections of trucks and trailers. This should happen every time the truck gets on the road at the start of a day or duty shift. These inspections should cover important mechanical features of the truck, such as the tires, brakes, lights, and mudflaps.
Drivers must also conduct their own inspection of their cargo load before setting off to ensure the load is balanced and secured. Unfortunately, these inspections are often not performed due to oversight or a lack of time. When an accident is caused by something that would have been caught in a reasonable inspection, the truck driver or trucking company could be held responsible for the crash.
Cargo Loading Negligence
The freight company responsible for loading a truck or trailer may have liability for a wreck that is caused by the cargo load. Trucks are rated to carry a maximum weight of cargo. Cargo should also be loaded to achieve a weight balance, with weight evenly spread and loaded toward the bottom. Cargo should additionally be secured to prevent it from shifting while the truck is moving.
When mistakes are made in loading cargo, it can interfere with the truck driver's ability to safely control the vehicle and may lead to an accident.
How Do We Prove Fault in a Truck Accident Case?
At Personal Injury Attorneys McQuaid & Douglas, our experienced truck accident attorneys review many different pieces of evidence to determine how exactly a truck crash occurred and which parties may bear fault. Examples of documents and information that we may look at include:
The truck driver's logs, which show how many hours the driver has been on duty. Many drivers now keep electronic logs, so we can also check if logs may have been altered or deleted.
The truck driver's tox screen, as drivers may undergo alcohol or drug testing following certain accidents.
The driver's employment and driving record, which can show the driver's experience and certifications or whether he or she has a history of accidents.
The truck's electronic data recorder, which is a type of "black box" that records data about a truck's performance, including GPS position, speed, hours of operation, acceleration, braking, or steering.
The load manifest, which may indicate whether a truck was improperly loaded with cargo.
Inspection and maintenance records, which can reveal if a dangerous mechanical failure went overlooked by the truck driver, truck owner, or trucking company.
Surveillance camera and traffic cam footage or in-cab camera footage, which may show a truck driver engaging in unsafe or reckless behaviors behind the wheel.