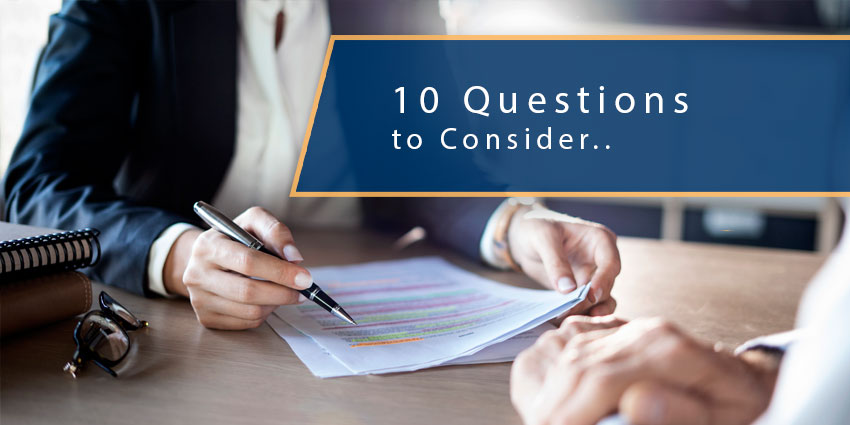 If you search the internet for information about hiring an attorney, you will be bombarded with opinions, suggestions, and recommendations from a multitude of people. You will also see common themes for the questions you should ask before hiring an attorney. Questions such as "How many cases similar to mine have you won?" "How long have you been in practice?" and "How much is my case worth?" And while these are all good questions to ask, we believe the most important question you should ask before hiring an attorney is a question you ask yourself – "Do I trust and feel confident that this attorney will work to get the best results possible for my case?" Because, after all, that is why you hire an attorney.
Before you can ask yourself that question, here are 10 questions you should ask any attorney before hiring them.
1. What Areas of Law Do You Handle?
Of course, you want an attorney that has experience in the area of law for your particular case. You want someone who is not only well-versed in the laws relevant to your case, but also has experience dealing with the insurance company(ies), understanding their tactics, and is able to negotiate successfully.
2. What Issues or Challenges Do You See with My Case?
While some personal injury cases do appear to be quick and easy to resolve, where liability is clear and there are little or no extenuating circumstances, this is rare. It is a good idea to ask any attorney you are considering hiring what they see as potential issues with your case. An honest, experienced attorney will want to share with you the obstacles they see that could impact your case. The legal system can be complex, and an attorney who has a track record of successfully settling cases will want you to be aware of these issues and set expectations appropriately so that everyone is fully aware and prepared.
3. Can You Handle My Case?
Follow-up questions should include: Can you give me and my case sufficient attention? How many cases are you actively handling currently? Are you involved in a trial now, or expect to be soon, that would significantly impact your ability to give my case adequate attention?
Too often law firms will accept a new client even though they have a huge caseload, and their staff and resources are already stretched thin. You should ask questions that give you a clear understanding of whether the attorney is really able to dedicate the time and attention to your case that it deserves.
4. How Large Is Your Firm and Who Will Be Working On My Case?
There are positive and negative aspects to consider if you are choosing a lawyer based on the size of the firm. Larger firms have greater resources, and a network of paralegals, records specialists, and experienced staff that will review and work on your case. But no one wants to feel like they are just another number or case file. Make sure that you have a good understanding of who will actually be working on your case, and who you should contact if you have questions at any time throughout the process. In most situations, your first point of contact may not be the attorney but rather their legal assistant or paralegal. Both should be extremely familiar with your case and able to answer the majority of your questions.
5. What Are Your Fees if I Win, and If I Do Not?
Almost all personal injury attorneys accept cases with a contingency fee agreement. A contingency fee agreement means the lawyer agrees to accept a fixed percentage of the money they are able to recover on your behalf. The percentage is usually between 33% – 40% and varies depending on the amount of work involved to resolve the matter. If you win your case, the lawyer's fee is deducted from the money awarded to you. Conversely, if your case is lost, you are not required to pay the attorney for the work they did on the case. You may, however, still be responsible to pay for any expenses, such as court filing fees, the cost to obtain medical records, and other costs related to gathering evidence.
The contract for services should clearly explain the exact fee structure, what costs you would be responsible to pay, and which ones you would not be responsible to pay. As with any contract, never sign it until you are completely comfortable that you understand the agreement in full.
6. How Much Is My Case Worth?
This is a tough one. An attorney with experience handling cases similar to yours should be able to give you a rough estimate of what they believe your case is worth. But each case is unique and there is no set dollar amount an injury is worth. Extenuating circumstances, unique conditions, and even the people involved in the matter can influence the value of your case. And no attorney can guarantee that you will receive an exact dollar amount. If an attorney guarantees that you will win your case and your compensation will be a precise amount, you may want to talk to a different lawyer – one that isn't going to tell you something just because that's what you want to hear.
7. How Long Will It Take To Resolve My Case
As long as it takes! We have all been told this at one time or another. And while it is absolutely true, it is not the response you should expect to hear from an attorney looking to represent you. Your attorney should be able to give you a pretty clear timeline for the major milestones of your case. For example, all legal matters are governed by rules, which state how much time each party has to perform certain actions, such as submitting discovery requests, and how much time the other party has to respond to those requests. Any attorney who has been practicing law for some time should be able to provide a good guestimate of how long it will take to resolve your case. A top-notch attorney will go the extra mile by also pointing out those things that could throw that timeline way off.
8. Will My Case Go To Trial?
A good attorney will handle every case as if it was going to go to trial. Personal injury cases are usually settled with negligent parties and insurance companies without going to trial – through negotiations. However, before hiring an attorney, make sure they have experience arguing cases before a judge and jury. A seasoned attorney, one who is familiar with the local courthouse and inner workings of the legal system, should also be able to give you a time frame for how long it will take for a trial date to be set for your case.
9. What Makes Your Firm Better Than All The Rest?
Again, this can be a tricky one to navigate because while one firm may be perfect for one person, it may not be perfect for everyone. Often it can come down to personal preference, personalities, and a similar way of looking at things. Hiring an attorney to protect your legal rights is an act of trust. You will be sharing a great deal of personal information about your life, your health, your family, and your finances. You should choose someone that understands this and is passionate about helping you recover the compensation you deserve.
10. How Much Participation Will I Have?
Follow-up questions should include: How will I be kept informed of the current status of my case? Who do I call with questions?
Every attorney has their own work style and handles cases differently. Before entering into any agreement to hire an attorney, make sure you both have a clear understanding of how much involvement you should expect to have during this process. If you have different expectations in this area than your attorney, it can make the process much more difficult and stressful for both of you.
Contact a Personal Injury Attorney Today
If you are considering hiring an attorney, you should want one that will answer all your questions, help you navigate through the legal process, and work to ensure you recover the compensation you deserve after a personal injury accident.
For over 60 years our firm has been successfully helping people who have been injured due to someone else's carelessness. We have been nationally ranked for decades by US News and World Reports as a Tier 1 law firm, which is the highest rank that can be received. Sean McQuaid and Jonathon Douglas have dedicated their careers to continuing the firm's legacy of superior legal representation.
Remember that we never charge a fee unless we win. Contact us today and we will fight to get the results you deserve.