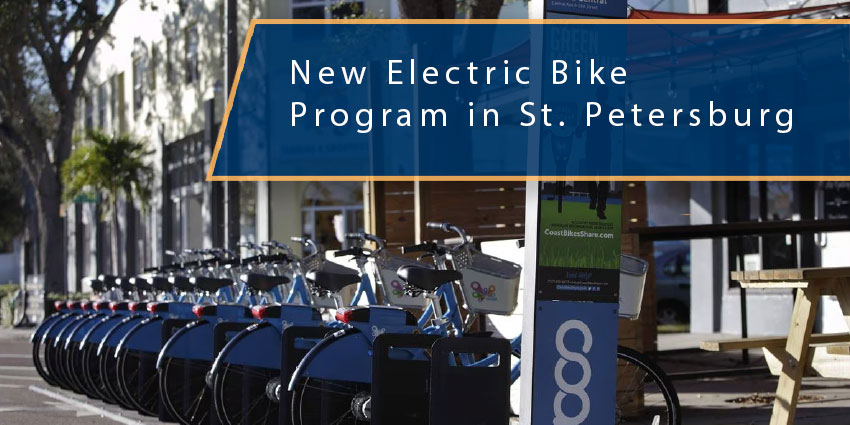 The next chapter of St. Petersburg's rideshare adventure is coming in April 2023. The City Council has recently approved a new electric-bike-share program sponsored by Lime, aka Neutron Holdings.
Over the next three years, the company is expected to provide 300 bikes to replace the previous pedal bikes. St. Petersburg residents and visitors can enjoy bike access between Central Avenue, southbound until Skyway Marina District. Additionally, the city will focus on connecting the Pinellas trail, Clam Bayou and Skyway Trails.
While the city purchased over 300 manual bikes over the past few years, they've decided not to renew their agreement with CycleHop. With the new program, the city is expected to save about $60,000 in operational costs. Furthermore, rather than direct operation by Lime, the city will operate the new electric bike program.
While new technology brings excitement and novelty, it also brings an unknown territory of potential dangers. Bikes are inherently dangerous, especially in the bustling downtown area of St. Petersburg. But when you make those bikes electric, we might see a new wave of accidents and related injuries.
Read on to find out more details about St. Petersburg''s new bike program and some potential dangers of electric bikes.
Details of the new Electric bike program
After a unanimous approval from the City Council, St.Petersburg will swap out manual bikes for electric bikes. The three-year program will replace the old bike-share program with brand new electric bikes to match up with e-scooters. Here are some additional details about the program:
The electric bike vendor, Lime, already operates e-bikes and e-scooters in 200 other cities, including Miami, Tampa, and Orlando.
There will be seven customer service agents, employed by Lime, available to help e-bike renters in St. Petersburg.
Florida residents can expect new e-bikes to appear on the streets from mid to late April
While the new bikes are electric, they aren't automatic; they will require pedaling to activate the electrical functions.
Each bike weighs about 70 pounds and has a rechargeable and replaceable battery that can travel up to 25 miles per charge. Bikes will also be equipped with adjustable seats, cable locks, large baskets, and phone holders.
The standard rate is one dollar to unlock 39 cents per minute to rent. However, the company will offer a special price for bulk minutes. The rates are the lowest in all of Florida's e-bike prices.
In addition to being the lowest price, Lime is also offering some other appealing incentives customers, including:

Up to a 70% discount for any Florida residents who receive low-income financial assistance
Discounts for parking improperly parked bikes
Incentives for wearing a helmet.

Customers can ride bikes outside of service areas but are asked to return bikes to designated parking spots.
St. Petersburg Laws for Electric Bikes
Florida has three classifications of e-bikes with different regulations for each.
Class 1 E-Bikes (Pedal-Assist)
Class 1 electric bikes have the following characteristics:
Motor assist that only aids the rider when pedaling (Lime's new e-bikes in St. Petersburg will be Class 1)
They can reach speeds of up to 20 miles per hour.
Class 2 E-Bikes
Unlike class 1 bikes, class 2 bikes have a throttle-activated motor to propel the bike without pedaling. But similar to class 1 bikes, they are limited to 20 miles per hour.
Class 3 E-Bikes (Pedal-Assist)
Class 3 e-bikes have an assistive motor while pedaling, up to 28 miles per hour.
Electric Bike Regulations on Florida Roadways
Under Florida Statute 316.20655 e-bikes can be operated anywhere bicycles are allowed to operate, including bike lanes, sidewalks, streets, and other paths. Additionally, electric bikes are subject to the same rules as regular bikes in Florida, such as riding in the same direction of traffic and yielding to pedestrians.
Prior to 2020, e-bikes were considered "motorized vehicles" and did not have the same rights and privileges as regular bicycles. However, with the passage of House Bill 971, e-bikes are allowed to operate under the same laws as bicycles.
Electric Bike Regulations for Florida Trails
According to Florida State Parks, electric bikes laws, regulated by The Florida Department of Environmental Protection, allows e-bikes on trails. However, people should check for local distractions before operating e-bikes on Florida trails. This is because some parks might have specific restrictions for e-bike access on mountain bike trails. You can visit your local State park website or call them for more information on their e-bike policy.
What Type Of E-Bike Is Allowed On Florida Trails?
Most Florida state parks allow Class 1 e-bikes on the trails. If you have doubts or questions, be sure to do research before operating an e-bike on a trail.
Bike Trails in Florida
Florida has some of the most breathtaking and scenic bike trails in the country. People find an outlet for exercise, sight-seeing, solidarity, and more on these gorgeous bike trails. Individuals and families can enjoy trails like Shark Valley Trail, the Lake Trail, or the Nature Coast Trail.
Am I Legally Obligated to Carry a License to Operate an E-bike in Florida?
No, you don't need a license to operate an electric bike in Florida. That said, there are some regulations to be aware of such as using hand signals while turning and yielding to pedestrians.
What Are the Regulations for Throttle-Assisted E-bikes in Florida?
Florida law places restrictions on throttle power for motorized bicycles for safety reasons. Motorcycles, scooters, and mopeds are also subject to these restrictions. The throttle for all motorized vehicles is limited to 750 watts. These restrictions serve to ensure riders do not over-rev their motors and limit the potential for injuries and other damages.
Are There Any Age Restrictions for E-bikes in Florida?
The age limit for electric bikes in Florida is 16 years old.
Are E-bike Riders Required to Wear Any Safety Equipment?
Riders aged 16 and under must wear a helmet, but there is no requirement for riders over 16. Furthermore, all bikes must be equipped with adequate lighting if driving between sunset and sunrise. Law enforcement officers have the discretion to issue a safety brochure, verbal warming, citation, or fine, depending on the type of violation.
Do You Need Insurance for E-bikes in Florida?
Insurance is not required for e-bike riders in Florida, but it's still a good idea to check with your insurance company to confirm the specifications of your policy. In the event of an accident, it will be helpful to know if you have coverage for an electric bike accident.
Do E-bikes Need to Be Registered in Florida?
No, you do not need to register an e-bike in Florida. However, any e-bike manufactured after January 2021 needs to have an identification label including a classification number, speed, and motor power. Tampering with an e-bike label is illegal and any modifications to the bike should be noted on a new label.
A Few Final Things To Consider While Riding an E-Bike in St. Petersburg
E-bike riders should stay cautious of their surroundings and ride responsibly to avoid accidents, especially on the busy streets of St. Petersburg. Here are some safety tips to remember while riding an ebike in Florida to help prevent accidents:
Stay on the lookout for obstacles in the road or any hazards in your path.
Obey traffic signals and keep a safe distance from moving traffic.
Be respectful of other people on the road and ride responsibly.
Always yield to pedestrians.
What Happens if I Get Injured in a St. Petersburg Electric Bike Accident?
Motor vehicle drivers are legally required to give a minimum of three feet of distance to e-bike riders, but they don't always do so. Depending on the circumstances of your accident, you might be able to get coverage through your PIP insurance benefits. But if your damage exceeds your policy limit, you need to seek legal help.
A Florida electric bicycle accident attorney will be able to help you pursue the party responsible for your injuries and recover compensation. Bicycles and e-bikes are no match for cars; if you get hit by a car while riding a bike, you likely have severe injuries. Get the help you need from expert lawyers rather than trying to go it alone.
Contact a Florida Electric Bicycle Accident Attorney
Unfortunately, riding an e-bike means you have the propensity to get hit by a car on the road. Since Florida doesn't have any requirements for drivers to carry bodily injury protection, it can be a difficult road to get a payout after getting injured on a bike.
If you or a loved one got hit by a car while riding a bike in Florida, call our Florida electric bike accident attorneys to see how we can help you.
We offer a free initial consultation, so contact us today.