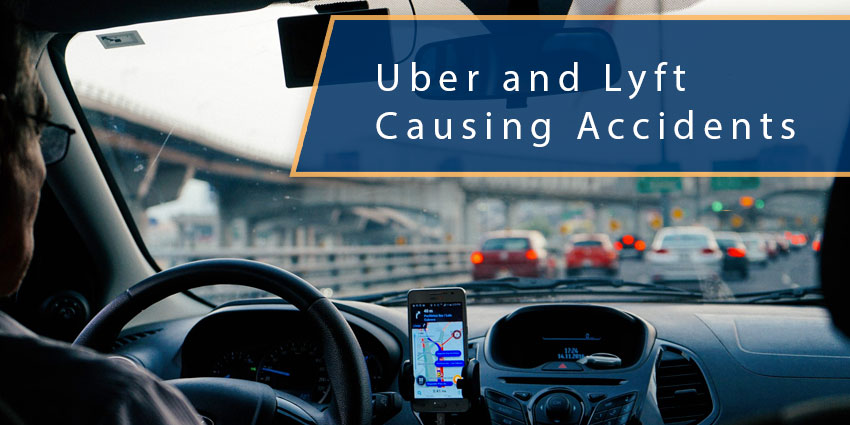 Uber and Lyft have been providing ridesharing services for over two decades and they continue to grow in popularity. And while this provides a convenient transportation option, allowing users to travel without the stress that comes with driving, such as dealing with traffic, parking, and drinking and driving, ridesharing does have risks. Uber accidents and Lyft accidents do occur, and there has been an increase in traffic deaths by 2% to 3%, according to a study from the University of Chicago. Uber and Lyft drivers are the same as any other driver; they can fail to act with a duty of care.
Below are some of the top causes of rideshare car accidents:
1. DISTRACTED DRIVING
Distracted driving is a primary cause of automobile accidents. And Uber and Lyft drivers have more distractions than your average driver. They must have the rideshare application running, which tells them the passenger information, pick-up point, and drop-off point. They also have a navigation system active, to display a map and provide driving directions and other traffic information. A rideshare driver will usually engage their customer with polite conversation, drawing the driver's attention away from safe driving.
2. NAVIGATING UNFAMILIAR ROADS
Rideshare drivers may not be familiar with the area and roads where they need to take their passengers. The driver's unfamiliarity increases the chance of unsettled driving, causing slow driving, unexpected stops, and sudden turns, all of which increase the odds of being involved in an auto accident.
3. UBER AND LYFT DRIVER FATIGUE
Many Lyft or Uber drivers work excessive hours, which can lead to driver fatigue. Additionally, the high demand for early morning or late night trips usually results in drivers that are tired behind the wheel. According to a AAA study, driver fatigue can be as dangerous as driving under the influence of drugs or alcohol.
4. UNSAFE PARKING & PICK UP LOCATIONS
Uber or Lyft drivers expect to make a very brief stop when picking up or dropping off passengers, and frequently do not find an actual parking spot. They will pull over on the side of the road or stop on the street outside a business or residence, seemingly oblivious to whether they are obstructing the flow of traffic and other drivers. This type of stopping and waiting can be quite dangerous to other cars and pedestrians and can easily result in a collision.
5. SPEEDING
Lyft or Uber drivers have a motivation to speed. Rideshare drivers make money based on the number of rides they provide and the distance of those rides. This means the faster a driver gets their customer to their destination, the quicker they can take on another trip, and thereby, make more money. A rideshare driver might not notice their travel speed or the posted speed limit or might be rushing the trip to collect as many rides as possible. Speeding not only increases the risk of a rideshare accident, but it also increases the damage.
Recoverable Damages in An Uber or Lyft Car Accident
As a result of any car accident, even as a passenger, you may have severe injuries including broken bones, spinal injuries, internal bleeding, traumatic brain injury, and even paralysis. If the accident resulted in the loss of the life of a loved one, you should contact McQuaid & Douglas today to discuss this sensitive matter. You may be eligible to file a wrongful death claim.
Liable Parties in a Rideshare Crash
Determining liability after a rideshare accident is like any other vehicle collision. If the rideshare driver is negligent and causes the crash, they are responsible for any damages they cause. Typically, if a person is involved in a car accident with another negligent driver operating the vehicle for work, you could pursue a claim against the negligent driver's employer. However, Uber and Lyft drivers are not considered employees of the company. Instead, these companies provide a third-party service that connects drivers and riders. This limits the liability of the rideshare company. However, it is worth remembering that this area of law is still being developed, and it is worthwhile to discuss your legal options with an attorney.
Pursuing an Insurance Claim
Florida's Uber / Lyft law, as it is commonly known, went into effect in 2017, and defines insurance requirements for the rideshare companies and individuals who drive for them. The amount of coverage and compensation you may be able to recover through an Uber or Lyft liability policy will vary based on the driver's status when they caused the accident.
For insurance purposes, a rideshare driver's status can be identified in three different classifications. The specific classification determines the maximum coverage available and whether Uber or Lyft's insurance policies could be applied.
A. Was the Driver On-Duty and Providing a Ride to a Passenger?
Uber and Lyft drivers must have primary automobile liability coverage of at least $1 million for death, bodily injury, and property damage. If you were involved in an accident with a rideshare driver who had a passenger, this insurance would be applicable.
B. Was the Driver On-Duty and Actively Seeking a Passenger?
If you are involved with a negligent rideshare driver that does not have a passenger in the vehicle, you could still receive some insurance coverage from the company. This is applicable when the negligent rideshare driver is logged on to the digital network or app. In this situation, there must be primary automobile liability coverage of at least $50,000 for death and bodily injury per incident, and $25,000 for property damage.
C. Was the Driver Off-Duty?
If the Uber or Lyft driver is not on-duty and using their vehicle for personal reasons, the rideshare company's insurance policy does not provide any coverage. In this situation, a claim for compensation would be submitted through the driver's personal auto insurance policy.
Contact a Personal Injury Attorney Today
If you or a loved one has been injured in an accident with an Uber or Lyft driver, then you should take the appropriate steps to ensure you receive the compensation you deserve. Contact a trusted, respectable personal injury attorney today.
For over 60 years McQuaid & Douglas has been successfully helping people who have been injured due to someone else's carelessness. We have been nationally ranked for decades by US News and World Reports as a Tier 1 law firm, which is the highest rank that can be received. Sean McQuaid and Jonathon Douglas have dedicated their careers to continuing the firm's legacy of superior legal representation.
Remember that we never charge a fee unless we win. Call us today so that we may answer your questions, help you navigate the complexities of insurance claims, and recover the compensation that you deserve.