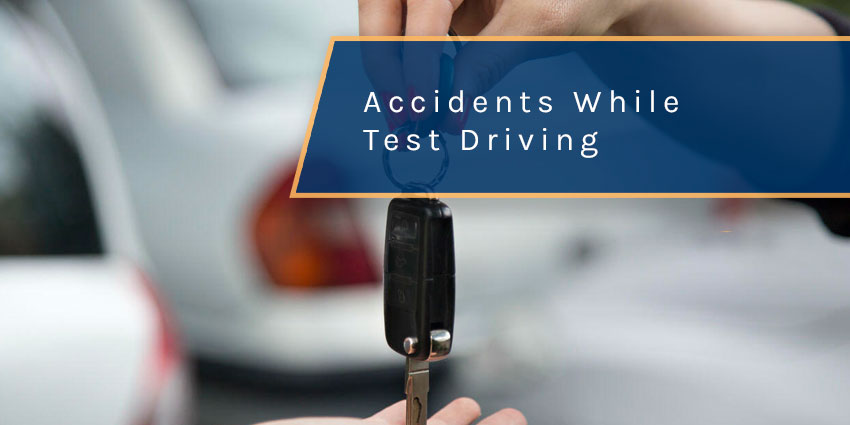 Imagine the thrill of test-driving a brand-new vehicle after months of research for just the right car. Then, suddenly, things take a turn for the worse: you have an accident. You find yourself in an unfamiliar car and you have no idea how to proceed.
It's understandably confusing to know the appropriate steps to take, who is at fault, and who to contact. You're in a totally unfamiliar vehicle and situation. Do you call your insurance or the dealerships? Do you need a St. Petersburg test drive accident attorney?
Vehicle test drives are an essential part of the car buying process. Nonetheless, just like any time we get into a car, sometimes an accident can result. This is why dealerships are required to provide coverage, known as "garage liability insurance." If you're in an accident during a test drive, can you trust that the dealership has you taken care of?
What Kind Of Insurance Is There For A Test Drive?
All car dealerships use garage liability insurance, sometimes also called "fleet insurance," to protect their customers, workers, and vehicles. This special type of insurance is the same also used at any business where someone might drive someone else's car, such as a mechanic, valet, or car wash.
When it comes to car dealerships in St. Petersburg, Florida requires them to have a minimum of $25,000 in garage liability insurance. Additionally, they must provide a minimum of $10,000 in Personal Injury Protection (PIP) coverage. Garage liability insurance typically includes two main components: general liability coverage and garagekeepers coverage.
General Liability Coverage
This protects the shop owners from third-party claims related to bodily injury, property damage, and accidents that can occur on their premises. This can range from traffic accidents during a test drive to slip and fall accidents to damage caused by faulty repair work.
Garagekeepers Coverage
This protects the vehicles left in the care, custody, and control of a card dealership. during repair, servicing, or storage. It covers damage or theft of the vehicles under their responsibility.
Does The Dealership Cover Costs Even If Not At Fault?
While a car dealership is required to carry insurance, it doesn't mean that they will be the ones to pay for injuries and damages. Just like any other accident in Pinellas County, the State of Florida's no-fault rules will apply. No-fault insurance, also known as personal injury protection (PIP), is a type of auto insurance coverage required in Florida.
Every driver in Florida must carry PIP coverage, regardless of fault in an accident. This coverage provides compensation for medical expenses, lost wages, and other related costs resulting from injuries sustained in a car accident. PIP coverage typically applies to the policyholder, their passengers, and sometimes pedestrians or bicyclists involved in the accident.
In the case of a car dealership, this gets very interesting. An uninsured driver, such as someone who currently doesn't own any car, is allowed to test drive a car. In this case, the dealership's garage liability insurance will cover all claims. If the driver does have their own PIP insurance, it will be involved in the coverage.
If this sounds unclear, don't worry – you're not the only one that's confused. This area of insurance law can be very hazy as it doesn't often actually need to be applied. If you have an accident during a test drive, it is critical to have the clarifying knowledge of a St. Petersburg test drive accident attorney.
Frequency Of Accidents During Vehicle Test Drives
As mentioned, accidents during test drives don't occur too often. However, as accidents continue to increase in the St. Pete area, this may lead to more test drive accidents, as well. In fact, both 2022 and 2023 saw fatal car accidents during a vehicle test drive. Very recently, Sand Lake Road was the scene of the tragic loss of life of a driver who was testing out a Corvette.
One of the leading causes of accidents is being distracted or in unfamiliar circumstances. Thus, test-driving a vehicle is a particularly susceptible environment. A person testing a vehicle is in a totally foreign car with strange controls. They're likely to be driving on roads that aren't a part of their normal daily commute.
Causes Of Accidents During Vehicle Test Drives
The main causes of accidents during a vehicle test drive are:
Distracted Driving
Distracted driving due to features or distractions within the vehicle can be dangerous. Lack of familiarity with the vehicle's features or controls can cause an accident. These features, such as infotainment systems or alarms, may have sounds and lights that throw the driver off.
Unfamiliar Territory
Large car dealerships are usually on the outskirts of town. Small dealerships are commonly in the congested downtown areas. Whether it's unfamiliar roads or traffic congestion, driving out and around a dealership can feel like undiscovered territory. If you're distracted by feeling lost, an accident may be much more likely.
Overconfidence
Overconfidence or improper handling by prospective drivers could lead to an accident. Drivers often forget the vehicle they're testing is not their own. Driving with the confidence of their own car can cause them not to anticipate how the test vehicle handles.
External Factors
The external factors that drivers face every day contribute to test drives. An accident may be the result of these, such as road conditions or other drivers.
What Kinds Of Common Car Accident Injuries Qualify For A Settlement?
If you are unfortunate to be in an accident during a test drive, you may find yourself injured. Some injuries only require brief medical care while others can lead to a lifetime of changes. In any case, it's essential to seek out medical assessment after an accident. It's also highly recommended to contact a St. Petersburg test drive accident attorney for advice.
Several common car accident injuries may qualify for a settlement, depending on the circumstances and severity of the injuries. Some examples include
Whiplash
Whiplash is one of the most common injuries caused by car accidents. The rapid back-and-forth movement of the head during a collision causes damage to many areas. It can cause neck pain, headaches, brain injury, and limited range of motion.
Head Injuries
Traumatic brain injuries (TBIs) can occur when the head suffers a direct blow during an accident. A TBI can range from a concussion to severe brain damage. It can impact cognitive abilities and quality of life, often with long-term effects.
Broken Bones
Fractured bones resulting from a car accident can range from minor fractures to more severe compound fractures.
Spinal Cord Injuries
Severe accidents can lead to spinal cord injuries that result in paralysis, loss of sensation, or impaired bodily functions. Any St. Petersburg test drive accident attorney can tell you that these injuries often involve significant medical expenses. They require ongoing rehabilitation, personal care needs, and lifelong consequences.
Soft Tissue Injuries
Soft tissue injuries include muscle strains, sprains, and bruising that may not be immediately visible but can cause pain and discomfort. While they may seem minor, soft tissue injuries can lead to long-term or even life-long pain.
Emotional Distress
Car accidents can also result in emotional distress such as post-traumatic stress disorder (PTSD), anxiety, and depression.
Nerve Damage
Nerve damage from car accidents can have long-lasting and debilitating effects on individuals. The forceful impact and trauma involved in a car accident can cause nerve injuries, leading to pain, numbness, tingling, muscle weakness, and loss of sensation in various parts of the body. Nerve damage may require extensive medical treatments, surgeries, physical therapy, and even lifelong care to manage the symptoms effectively.
It's important to note that every case is unique, and each settlement amount will vary based on individual circumstances. A St. Petersburg test drive accident attorney can help you understand what you may qualify to have covered. Generally, settlements cover medical expenses, pain and suffering, loss of income, and long-term effects. Consulting with a St. Petersburg test drive accident attorney can provide personalized guidance regarding the potential settlement value for specific injuries.
Test Drive Tips For Prospective Buyers To Prevent Accidents
1. Familiarize yourself with the vehicle's features and controls before hitting the road
2. Ask for a step-by-step demonstration of vehicle features and controls by dealership staff
3. Conduct a thorough pre-test drive inspection to ensure vehicle's roadworthiness
4. Before driving, find your blind spots and adjust rear view and side mirrors for enhanced visibility
5. Focus solely on driving during the test drive and avoid distractions
6. Communicate any concerns or need for clarification regarding the vehicle's handling or features to the salesperson
What To Do Immediately After A Test Drive Accident
Immediately following a car accident, it's important to take certain steps, even during a vehicle test drive. This will ensure everyone's safety and protect your rights. Here's what you should do:
1. Check for injuries that may require emergency care
2. Move to a safe location, if possible
3. Contact law enforcement, even though it's a test drive vehicle
4. Exchange information with everyone involved
5. Document the scene with photographs and video
6. Report to the insurance of the dealership and your own
7. Gather witness information
8. Do not admit fault or sign any waivers
9. Seek medical attention, even if you feel fine
10. Consult with a St. Petersburg test drive accident attorney to be sure you have someone looking out for your best interests
Contact Us Today For A Free Consultation
If you have been involved in a test drive accident and need legal assistance, don't wait any longer. Contact a St. Petersburg test drive accident attorney today for a free consultation. Our experienced team of attorneys specializes in handling cases like yours, and we understand the complexities and challenges that can arise after a test drive accident.
We are here to guide you through every step of the process. We'll listen to your story, evaluate your case's specifics, and provide expert advice on the best course of action. Our team of St. Petersburg test drive accident attorneys will answer any questions and address your concerns, ensuring you have a clear understanding of your legal rights and options.
Remember, time is of the essence when it comes to protecting your rights and seeking compensation for your injuries or damages. Don't delay seeking legal representation – reaching out to us today is the crucial first step towards achieving justice.