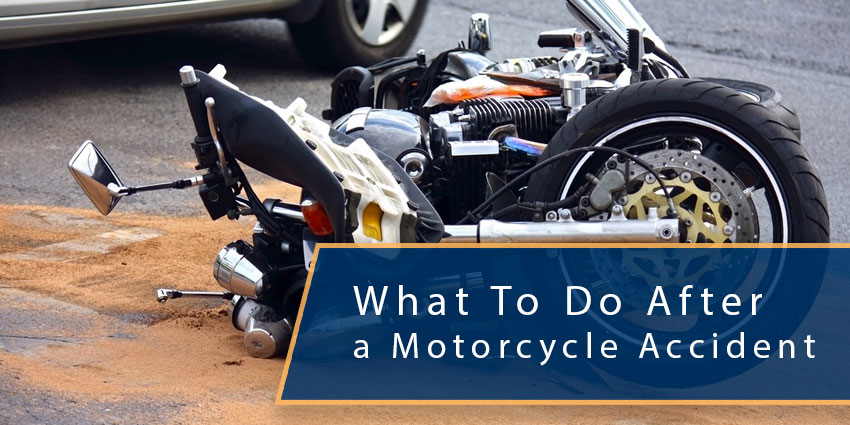 Have you or a loved one recently taken up driving a motorcycle? Have you driven a motorcycle for a long time and wondered about what you should do after a motorcycle accident in Florida? According to NHTSA traffic safety statistics, in 2019 and 2020, Florida was ranked as one of the top states for motorcycle fatalities.
Why are there so many motorcycle accidents in Florida? Maybe it is the nice warm weather or the beautiful scenic rides that get Florida motorcyclists out on the road, but it is no secret that motorcycle accidents in Florida are a common cause of major injuries. The most frequent causes of fatalities include speeding, driving while being distracted, reckless driving, or driving under the influence, in addition to bad weather and poor road conditions.
If you or a loved one has decided to drive a motorcycle in Florida, you should know what to do if you are involved in an accident. If you are injured as a result of another driver's negligence, it is important to take the necessary steps to protect your right to recover damages from your losses. These steps will impact the amount of the compensation you are able to receive.
Below, we will explain the process of what to do in the case of a motorcycle accident in Florida. If you were in a recent motorcycle accident, you should seek legal advice from an experienced motorcycle accident attorney.
What You Should Know
But first thing is first, here is what you should know before driving a motorcycle in Florida:
The motorcycle must be properly titled and registered.
The license tag of a motorcycle must be permanently affixed to the vehicle and remain clearly visible from the rear at all times. Any deliberate act to conceal or obscure the legibility of the license tag of a motorcycle is prohibited.
You must have a valid Florida motorcycle driver's license OR a Florida driver's license with a motorcycle endorsement.
You must complete a 15-hour education course.
If you are under 16 years old, you must have held a driver's permit for at least one year and be clear of any history of traffic violations.
For those older than 18 years, you must pass a standard class E license test and complete a Basic Rider Course.
It is not required in the state of Florida to buy a motorcycle insurance policy if your health insurance policy covers up to $10,000 in motorcycle medical benefits.
If you are over the age of twenty-one, you are not required to wear a helmet – if you have a valid insurance policy of at least $10,000 in medical benefits.
If you are under the age of twenty-one, you must wear a helmet. Also, Florida law states that speakers in helmets are permitted when used for communication purposes only. Earbuds and headphones are not allowed.
You must wear protective eye covering when riding a motorcycle during the day and at night.
You must use eye protection and wear a helmet if you are under the age of twenty-one or if you have less than $10,000 medical insurance coverage for motorcycle-related injuries.
What You Should Do After an Accident
Here is what you should do if you are involved in a motorcycle accident in Florida:
Try to Stay Calm
Do not fight with or yell at the other driver in the motorcycle accident. Remember that you must keep your composure and focus on how to keep yourself safe in all aspects.
Contact the Police
You should notify the police immediately after an accident. Communicate only with the police at the scene, as the officer will not be able to repeat what you said in a potential lawsuit. If you noticed any unusual behavior or erratic driving by the other parties, politely explain to the police officer if the other driver appeared to be impaired. The police officers will write up a police report with their observations and details regarding the accident. The official police report is a critical piece of evidence to any accident injury claim, as it could help you with any future claim to recover compensation for damages.
Get Medical Attention
Seek medical care for yourself or anyone else who may be injured in the accident. Even if you do not believe you have been injured, it is advisable to get checked out by a doctor. Internal injuries may not be visible or present immediate symptoms but can be life-threatening, if left untreated. Collect medical documents for yourself and for any potential compensation claim. Keep complete records of all medical care you receive, including the names of the medical providers, dates and times care was provided, a list of prescribed medications, and all treatments you received.
Gather Evidence
If you are well enough to do so, you should also try to collect as much evidence as possible on your own. Make sure to take photos of the scene and include close up photos of all vehicles involved in the accident as well as damage to your motorcycle. Collect witnesses' names, their contact information and, of course, their insurance information. Save clothes, fallen parts, or anything that can be used later as evidence.
Do Not Admit Fault
Be careful about what you say to others following your motorcycle accident.
Get Your Motorcycle Out of the Tow Yard
If your motorcycle was taken to an impound lot or tow yard after the accident, you should make arrangements to have it moved to a repair shop or even to your home as soon as possible. These facilities charge high daily rates for storage, which can add up quickly. An added expense you do not need at a time like this.
Get Legal Advice
Talk to a personal injury attorney that is experienced handling motorcycle accident cases in Florida. While your insurance company may seem as though they are on your side, be aware that they are also invested in making money and in saving it. It is important to protect your legal rights so that you can receive the compensation you deserve.
If you would like to learn more about how our experienced personal injury attorneys can help you, contact us for a free consultation today. We have been nationally ranked for decades by US News & World Reports as a Tier 1 law firm, which is the highest ranking that can be received.