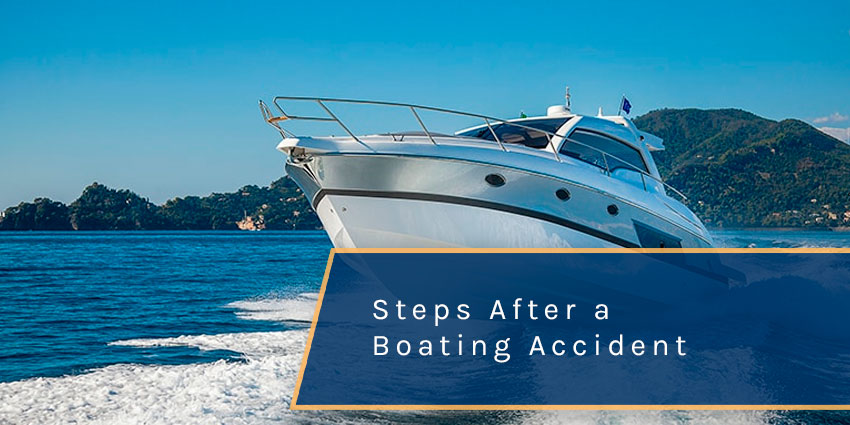 Boat accidents are much more complex than other types of accidents, so it's important to educate yourself on how to proceed after getting injured on a boat.
Nearly one million boats are registered in Florida. With such a high volume of boats, you've probably been on a boat before and perhaps were even injured. Boating accidents are quite complex and difficult to investigate, unlike car and other accidents. Since they happen in the water, waterway officials need to help investigate an accident, and evidence can easily sink to the bottom of the water. That often leaves evidence and other important items entirely lost.
Boating accidents that occur at high speeds usually have very serious outcomes, such as injury, extensive boat damage, or even death. In such cases, it's even more difficult to salvage evidence for an investigation. With a car accident, for example, all the pieces and debris of the accident are on land to collect in order to reconstruct the accident. But that's not necessarily the case for boat accidents.
Boat accident injuries are rarely minor injuries. In fact, boat accident fatality rates in Florida are staggering. For all of these reasons, it's a good idea to retain legal counsel from an experienced St. Petersburg Boating Accident Lawyer who knows how to conduct an effective investigation into a boat accident. Read on to learn about the steps to take after a St. Petersburg Boating Accident.
Contact Local Authorities
After an accident, it's important to contact local law enforcement. In the case of a St. Petersburg Boating Accident, you will need to contact the Florida Coast Guard right away. Let them know an accident has occurred.
Boat accident injuries are often very serious, sometimes even life-threatening, so it's imperative to contact authorities right away. If you are injured, ask someone else to call the authorities.
Depending on the circumstances of your boating accident, first responders could come from several different public agencies. For boat accidents, paramedics may not be the first line of defense to provide assistance. As many boat accidents occur in remote locations, getting to the crash scene can be a challenge for normal paramedics and police. This is why the Coast Guard would be on the front lines to respond immediately. Furthermore, the only people who can call are the other passengers on the boat who witnessed the accident, and they may also be injured or unable to call for help. Whatever the situation, someone should contact emergency responders right away.
Seek Medical Attention Right Away
While police and paramedics may not be able to reach a boating accident right away, you still need to find professional medical attention for any injured parties. Internal injuries are common injuries we see in boating accidents as a result of failure to wear restraint devices or adequate safety gear. This is a serious injury that you can't see right away but can have dire consequences if left untreated.
More obvious, superficial injuries need to be tended to right away. Only a medical professional can assess, diagnose and treat injuries. Even if you think your injuries are not that serious, you should still get medical attention. You can use the boat's marine radio to make a mayday or pan-pan call, depending on the severity of the accident. When you make this call, you'll give pertinent information such as:
Your name
The name of the boat you're on
The nature of your emergency and injuries
Where you are located
How many passengers are aboard
Repeat the call until you hear back and receive an acknowledgment that your call has been heard. Sometimes, if you're closer to shore or in a popular boating area, you can just use your cell phone to call the police. If you don't have cell phone service or one available, the Coast Guard can be an effective backup option for help.
As your damage recovery is correlated with the nature and extent of your damages, including physical and mental injuries, it's important to make sure all of this is documented. If you need to file a boat accident injury claim later, having documentation of your medical care will be a vital piece of evidence.
Stay Calm and Keep Your Composure
Staying calm can be the most challenging part after any accident, especially if anyone is injured. However, if everyone is panicking, that will breed confusion and chaos. The last thing you want to do is make impulsive decisions that can worsen the situation. Try to stay calm and keep an eye out for any secondary dangers, such as approaching vessels, leaks, or fire hazards. It can be difficult to develop a swift action plan while in a tense situation and under pressure. That's why it's good to proactively educate yourself on what to do in case of a boat accident before the accident occurs.
Document the Accident With As Much Detail as Possible
After you place a call for help, you need to start documenting the incident to the best of your abilities. This might be a challenging step, especially after a boating accident, but it's important to document everything while it's still fresh in your memory. This will be vital information for your insurance claim and any legal action you need to take later.
Take down details like the time, locations, and weather conditions when the accident occurred. Then describe with as much detail as possible the events that led up to the accident and all damages you and anyone else sustained. If you can, take pictures or videos to show the damages, the surroundings, and anything else that could show a boat operator's negligence.
The reason why evidence is so important is that all personal injury cases are built on the foundation of strong evidence. Evidence is necessary to prove negligence and establish liability. That way, you can hold the appropriate parties accountable for your damages. Taking pictures of the water conditions can also be helpful, especially for accident reconstructionists who determine the cause of the accident. Remember, you can never have too much evidence.
Try to Collect As Much Evidence As You Can
All pictures, videos, and medical documentation you collect should be kept in a secure place. You will need the evidence to be readily available when you go to file a claim for the accident and your injuries.
Contact a Knowledgeable St. Petersburg Boat Accident Attorney
If you were injured in a St. Petersburg boating accident caused by someone else's negligence, we may be able to help you seek damage recovery. That said, getting proper compensation requires the skill and experience of a St. Petersburg Boating Accident Lawyer. You need a professional who has dealt with these types of cases before and understands the complex nature of boat accident cases, as well as how to handle unique obstacles that can arise in such injury claims.
It's possible that insurance companies will have multiple claims associated with the same accident, making settlement negotiations very challenging in boat accident claims. But if you have an aggressive attorney fighting for you, your odds of winning fair compensation can increase significantly.
If negotiations with insurance companies prove unsatisfactory, your attorney can take your case to trial for litigation. They will then present your case to a judge or jury who will decide on your award amount.
If you or a loved one was injured in a St. Petersburg boating accident, call our St. Petersburg Personal Injury lawyers now. You don't have all the time in the world to seek damage compensation, and we need time to conduct an investigation and build a case to support your claim.
You have nothing to lose by contacting us today, as we offer a free initial case review.