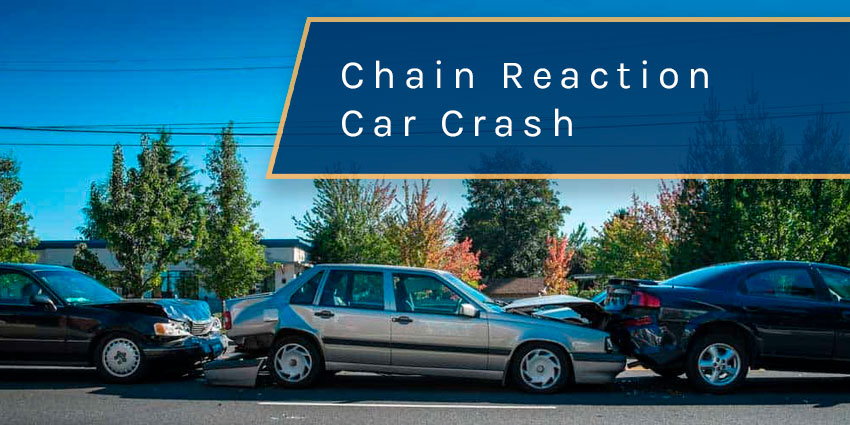 When several drivers are involved in a crash, how do you know who is at fault? Such accidents, known as chain-reaction or multi-vehicle accidents, are surprisingly common in Florida. Consequently, it can be difficult to determine where to turn to cover your losses.
The best way to determine who is at fault and how to get the compensation you deserve is by working with an experienced Florida car accident attorney. Read on to learn more about chain-reaction accidents and the related legal issues in Florida.
What Causes Chain-Reaction Crashes In Florida?
To determine fault in a chain-reaction crash, you must identify which drivers were negligent. Carless, reckless, or negligent driving behaviors are what usually lead to chain-reaction crashes in Florida.
Here are some common causes of chain-reaction crashes in Florida:
"Rubbernecking" or when a driver gets distracted by an accident thereby causing another accident
Wrong-way driving or driving on the wrong side of the street
Lacking headlights or taillights at night
Driving without adequate lighting in inclement weather
Distracted driving, including texting, phone calls, or using a navigation system
Drugged driving
Speeding
Improper lane changing
Failure to use turn signals
Failure to obey traffic signs and signals
Driving a car that has not been adequately inspected or is otherwise defective
All of these examples are considered negligence on the road in Florida. Proving that another driver engaged in any of these behaviors can be difficult without the assistance of a legal professional. Therefore, it's advisable to consult a Florida car accident lawyer as soon as possible following a chain-reaction accident.
The Role of New Comparative Negligence Laws in a Florida Chain Reaction Crash
Florida used to follow pure comparative negligence laws. That meant any driver who was partially responsible for the accident could still recover damage compensation. However, with Florida's new tort reform (HB 837), Florida now uses a modified comparative negligence standard.
Under modified comparative negligence, accident victims can only recover damages if they are less than 50% responsible for the crash. This makes it even more important to work with a lawyer, as determining fault will be a crucial step in obtaining financial recovery for accident damages.
Recent Examples of Chain-Reaction Car Crashes In Florida
In February 2023, there was a fatal chain reaction accident on the Palmetto Expressway that resulted in one fatality and several injuries. According to the Florida Highway Patrol (FHP), a woman driving a Honda SUV lost control of the wheel and crashed into a concrete barrier wall. The impact of the crash caused the SUV to ricochet all the way across the freeway to the opposite barrier wall. Then, a Volkswagen sedan slowed down to help and was struck by a GMC SUV. The Honda SUV driver ended up in critical condition while the GMC SUV driver died on the scene.
Another collision occurred in February 2023 on Interstate 95 near Davie Boulevard in Fort Lauderdale, causing a chain reaction crash. At least one car in this incident rolled over and flipped on its roof.
In April 2023, a teen in Walton County intentionally drove into oncoming traffic and caused a chain reaction crash. The 15 year old girl was on the run from Holmes County Sheriffs when she ran over a grass median and started driving head-on towards oncoming driving. While the teen is the only one who sustained injuries, there was other damage caused by the crash.
Yet another chain reaction accident in January 2023 occured in Coral Springs. Ten people sustained injuries, including a group of teens and children. A Hyundai SUV driver started the chain reaction by hitting a guardrail before crashing into a Nissan sports car. The youngest injury victim was a seven year old girl and at least two more trends were injured in the collision.
On New Year's Day this year, a 21 car pile-up on I-75 caused three fatalities. The chain reaction crash happened shortly after midnight on New Year's Day in Lake City. The crash investigation unit spent a total of 12 hours mapping the scene, collecting evidence, and removing debris to open the interstate backup. Five rescue units transported injured car passengers to medical facilities and a few others drove themselves.
Who Pays for Damages in a Multiple Vehicle Crash?
Chain reaction accidents usually occur due to an initial collision. For example, it could start with a fender bender with car A and B that causes car C to swerve off the road and collide with car D.
While this is not always the case, the first car that causes a chain reaction accident is usually liable for injuries and any damages that stem from the accident. In the above example, the driver who was at fault for the fender bender is a fault for the chain reaction crash. That's because they failed to give adequate space to the front car and caused the initial collision that led to the chain reaction.
Another way chain reaction accidents happen is when there is already an accident on the road and bypassing drivers are overly interested in observing the accident scene. While they are distracted by the initial collision, taking their eyes off of the road leads to another collision, which could involve multiple cars.
Or, it can happen with multiple cars in one collision. To illustrate this type of accident, imagine you are stopped at a red light and a car stops behind you. Then, a distracted driver hits the car behind you, causing them to rear-end you. In this case, the last car (the distracted driver who hit the driver behind you) would be liable by damages you and the person behind you suffered.
It's possible for multiple parties to share liability in a chain reaction accident, too. Consider a similar scenario where the fault is distributed slightly differently. Let's say you're driving down a freeway and a deer suddenly runs out in front of you. You have the brake suddenly and the car behind you doesn't have time to stop, so they rear end you. The car behind them also crashes into the middle car. In this case, both of the cars behind you would be partially at fault and their respective insurance companies would be responsible for paying damages. Since they both caused separate impacts, the car behind you would be responsible for your damages and the last car would be responsible for paying the middle car's damages.
All of these examples involve three cars, but the situation only gets more complicated when more cars are involved.
How Can A Florida Car Accident Lawyer Help Me After A Chain Reaction Accident
Since Florida is a no-fault state, injury victims use their own PIP insurance as a first line of coverage after an accident. But if the accident damages exceed $10,000, they must seek compensation from the liable parties. In many chain reaction accidents, the damages from medical bills and property damage exceed $10,000.
Therefore, injured victims who have damages exceeding $10,00 need to work with an attorney to get the full compensation they deserve. Your attorney may help you by hiring an accident reconstruction specialist, forensic expert, private investigators, and other professionals to help prove what happened.
Sometimes, it may seem obvious who is at fault. Even then, it can be difficult to prove it because insurance companies do everything they can to deflect liability. Their goal is to protect their bottom line and pay you as little as possible. Unfortunately, this often means your claim will get undervalued or outright denied.
With the help of an experienced and knowledgeable attorney, you have a better shot at getting fair compensation.
Contact A Florida Car Accident Lawyer Today
If you were involved in a chain reaction car accident in Florida, contact an attorney for legal help. You need an experienced professional who can help you gather key evidence and build a strong case so you get the financial recovery you need to cover your damages.
We offer a free initial consultation so call us today.