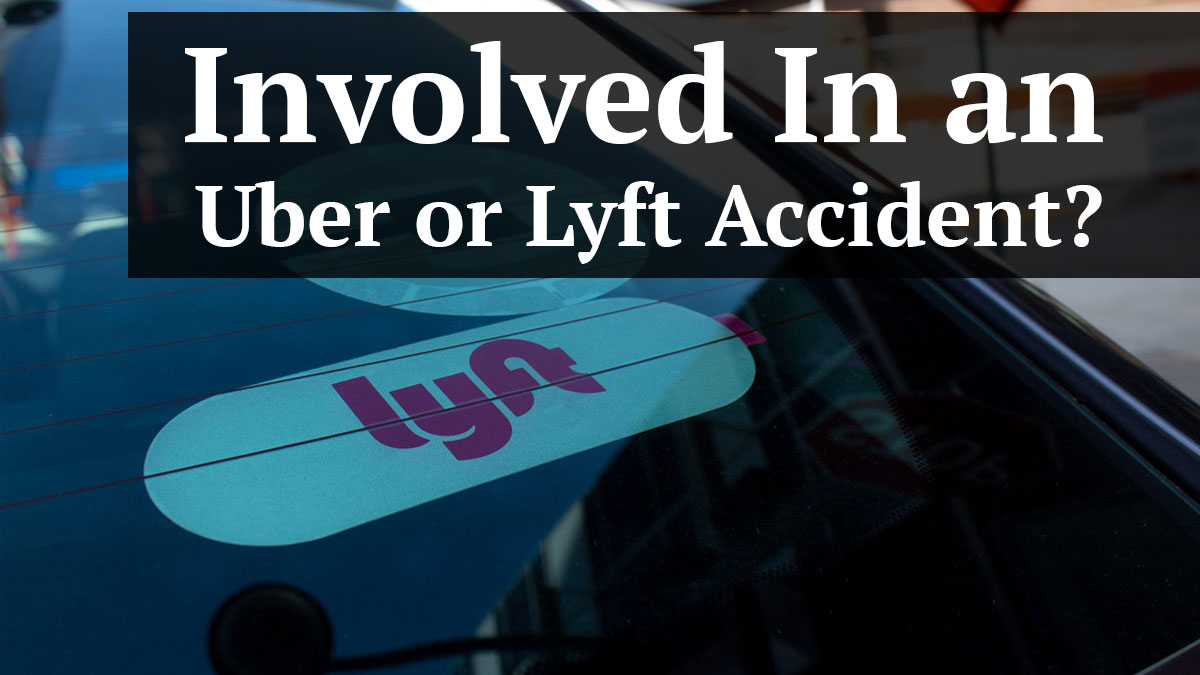 Uber and Lyft are dominating the rideshare business in St. Petersburg and throughout the Tampa Bay area. As you drive around town, you likely have seen the illuminated Uber and Lyft signs in the windows of vehicles. With the increased use of Uber and Lyft, unfortunately, comes an increase in auto accidents involving Uber or Lyft. Because many people have begun using Uber and Lyft to travel to and from work, the rideshare system is no longer only operating late at night taking people to and from bars and clubs. The increase in accidents involving an Uber or Lyft has created confusion because many people are unfamiliar with the next steps to take or what insurance applies. Uber and Lyft accidents are relatively new to the legal community and many older car accident attorneys have no grasp on how the apps work. This article aims to address the various circumstances that involve an accident with an Uber or Lyft vehicle in St. Petersburg or the Tampa Bay area.
How to Handle an Uber or Lyft Accident as a Passenger
If you were injured as a passenger in either an Uber or Lyft, you are likely wondering what to do next. You may have medical expenses, lost wages and you may be in pain from the accident. The insurance works as follows. If you have your own vehicle or live with a resident relative with a vehicle, you will qualify for PIP or no-fault benefits through that insurance company. If you do not own a car and do not live with a relative with a car, you will qualify for PIP/no-fault benefits through Uber or Lyft.
If the Uber or Lyft driver caused the accident, you will need to make a claim against the driver's own insurance company and the Uber and Lyft policy. If the driver was responsible and informed his or her insurance company that the vehicle was being used for rideshare services, you will be permitted to make that claim against that particular company. If the driver did not inform his or her insurance company or had an exclusion for rideshare work, never fear. Both Uber and Lyft are required by Florida law to carry 1 million in bodily injury coverage. You will be able to make your claim for your injuries, lost wages, medical bills, pain and suffering against the Uber or Lyft insurance policy. Uber is insured through Progressive and Lyft carries its insurance through Greenwich Insurance Company.
If another driver was at fault for the accident, you will first make your claim for injuries against the bodily insurance for that driver. If the driver did not carry bodily injury (BI) or did not carry enough BI insurance, you will then be able to make a claim against Uber or Lyft. Uber carries 1 million in uninsured motorist (UM) coverage and Lyft carries $250,000 in UM coverage. Therefore, Uber's UM policy provides a clear advantage for the protection of its passenger over Lyft.
Steps to Take If You Were a Passenger in an Uber or Lyft Car Accident
After an accident, while you were a passenger in an Uber or Lyft, there are certain steps you should immediately take.
First, if the police haven't been contacted, make sure you do so. Certain Uber and Lyft drivers will try to avoid contacting law enforcement in an attempt to minimize the accident. Never let the driver control the situation. Call the police after every accident.
Second, make a note of the Uber or Lyft driver's name, address, and phone number. Some of this information may be available in the app but verify the information is accurate.
Third, take down the same information for the other driver and other witnesses. Do not rely on the police to document this information accurately. I have seen in countless accidents mistakes that police make in listing witness contact information.
Fourth, obtain the insurance information for the Uber or Lyft driver and the other party. I suggest taking a picture of the insurance cards.
Fifth, take pictures. You will likely not have access to either of the vehicles again, so document the damage to the cars. Also, make sure you take pictures of any visible injuries you may have. For example, red marks from seatbelt burns disappear quickly, so make sure you capture them.
Sixth, take screenshots of the Uber or Lyft information from your phone. I have personally witnessed Uber and Lyft delete ride information immediately after an accident, so take steps to protect yourself.
Seventh, contact Uber or Lyft and report the accident directly to them. This report is important. You can make the call from your phone and screenshot the history of the phone call. Get the claim number and the name of the person you speak to.
Finally, contact an Uber or Lyft attorney. Uber and Lyft accident claims move more quickly than most because of the complexities of the insurance layers. I always suggest getting a lawyer involved as soon as possible to protect your claim.
Contact an Uber or Lyft Lawyer for the Injury Claim
As mentioned in the above, most car accident lawyers in St. Petersburg and the Tampa Bay area simply are not set up to handle Uber and Lyft claims. These car accident lawyers have never used the apps and have no understanding of how the claims process works. If a lawyer is unfamiliar with Uber and Lyft, the client is automatically at a disadvantage. At St. Petersburg Personal Injury Attorneys McQuaid & Douglas, we are intimately familiar with both rideshare companies. We handle Uber and Lyft cases on a regular basis and are aware of what insurance companies to pursue and how to make proper claims for compensation for injuries after an accident. Uber and Lyft accidents are only becoming more frequent so it is important to have a strong grasp of the issues in order to efficiently assist a client. If you have been injured as a passenger in an Uber or Lyft and have been injured, please contact our office for a free consultation.